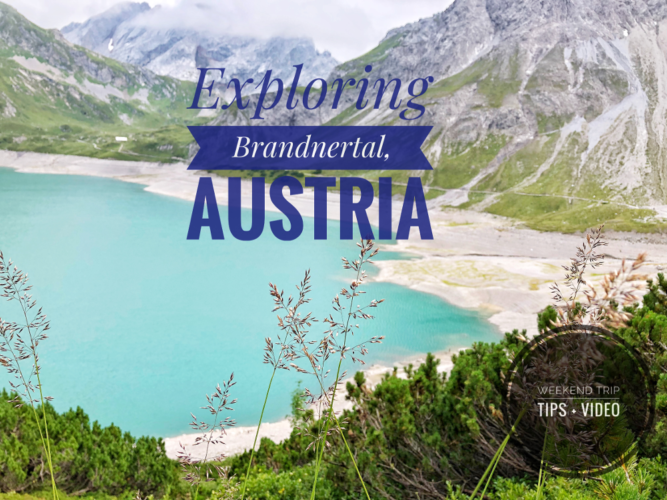 The world-famous ski resorts of Vorarlberg turns into a gorgeous green valley and could be a great alternative in the summer for an ideal hiking holiday. Since I don't ski, I always try to use the summer months to hike and explore these regions. This summer we planned to explore the amazing hiking trails of Brandnertal, located on the western corner of Austria bordering Germany. We planned our trip for 3 nights (extended weekend trip), although I would recommend a trip for 5 days.
Here's a quick summary video highlighting our entire trip. Check it out!
How to reach?
We drove with our car from Freiburg to Brand and it took us around 3.5 to 4 hours approx via B31 Motorway.
Where to stay?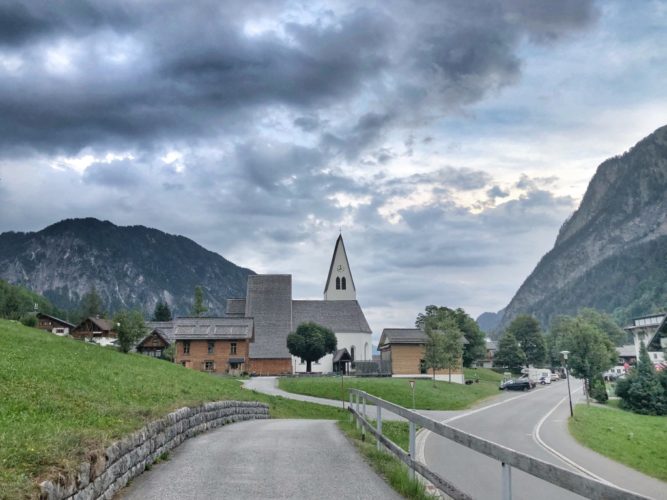 We selected the idyllic village of Brand located on the foothills of Rätikon mountains as our base for the hikes. The village is central to all the cable cars and connecting points to various hiking trails. We stayed in the newly renovated boutique Hotel Lün and we simply loved every bit of it – location, service, room, modern wellness spa area and the great selection of breakfast buffet. Our room had a cute little balcony facing the huge mountain walls and it was the perfect greetings in the morning.
What to do?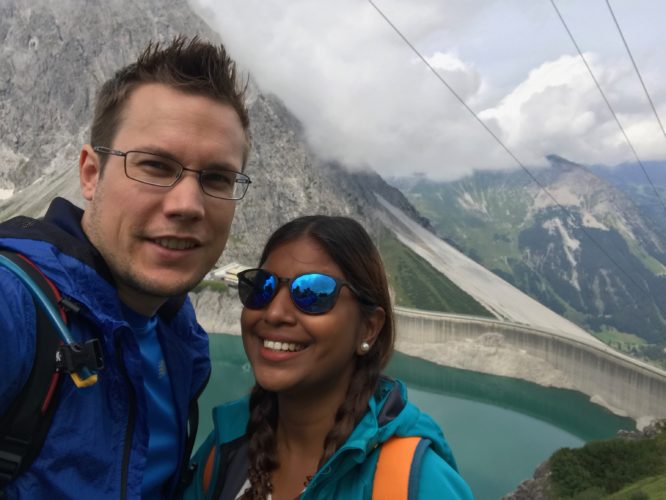 Lush meadows, steep ridges, pine forests and alpine huts: hiking in Brandnertal is diverse and has something for everyone from gentle stroll to serious hikes and not to forget the mountain treks. Since we had only 2 full days in hand we decided for 1 hike per day.
Warmup easy hike: From Brand to Untere Brüggele Alpe (Alpine Hut)
Length: 7 km
Elevation gain: 410 hm
Highest altitude: 1509 hm
Level: Intermediate
Duration: 2:30 h one way
Since it had been raining quite a lot the previous night and the mountains were still engulfed in clouds, we opted for this short 2.5-hour hike. Moreover, this trail is also recommended as a Rainy-day hike. It was indeed a perfect choice as nature looks so lush and fresh and the earth floor is super cushiony to walk after the rains.
We started from the car park next to the Palüdbach. The trail runs mostly in the shade of trees along the Glingabrunnen springs, worthwhile in warm weather and to escape the rain. After walking around 45 mins in the shade, we were greeted by the green untouched Zalim valley full of natural beauty.
After approx. 1.5 hours, we reached the idyllic lower Brueggele Alpe – a small alpine mountain cabin beautifully decorated with colorful blooming geraniums and with farm fresh Alp products and small snacks. We took a 30 mins pause here and tried out some local products. The journey can then be continued further up to upper Zalimhütte but  however the weather was not so promising with a temperature of 10 degrees only. Hence, we decided to end our tour and return back to Brand.
I would totally recommend this hike as a warm up before you plan to hike to higher mountain peaks or cabins.
Mountain hike: Round Tour of Lünersee + Hike to Totalphütte (Mountain hut)
Length: 7.39 km
Elevation gain: 1039 hm
Highest altitude: Lünersee at 1979 m and Totalphütte at 2385 m
Level: Intermediate
Duration: Lünersee roundtour 2 h + Totalphütte 2 h
Lünersee is one of the most beautiful alpine lakes with emerald green waters and amazing mountainous backdrop. You don't need to photoshop to make this lake as green as you want. With the Lünerseebahn cable car, you can easily reach Lünersee Lake within a 5-minute cable car ride.
The round trip around Lünersee is very popular with families. This hike offers a constant panoramic view of the lake. Although the shimmering green water is very inviting, swimming is forbidden. If you are into fishing, you can get your fishing gears along.
If you are travelling with kids I would recommend you to go anticlosewise around the lake otherwise you would be climbing a pretty steep slope to the left of the reservoir. However if you combine your round tour with additional hike, I would recommend you to go clockwise.
We combined this round trip with a hike to the alpine hut of Totalp. Those who want a bit more of adrenaline rush and to step up their challenge, this is a perfect combination. The views from top of the hut is breathtaking. The hut offers some real good Austrian delicacies. We tried out the Austrian bacon dumpling soup. You can also extend this tour further to Schesaplana over two days but a proper training is needed to accomplish this trek.
Conclusion
If you are looking for a perfect place to hike in the Austrian Alps this summer then don't look further away from Brandnertal. Gorgeous food, great views and plenty of action awaits you at your fingertips . If you need any additional tips feel free to comment below.