We just returned from a 1-week trip to the lovely green Canary Island – La Palma. To those who are wondering where on earth is that? Canary island is a set of 7 volcanic islands belonging to Spain but is located far far away from mainland along the north-west coast of Africa in the Atlantic Ocean. Honestly La Palma was never on my travel radar! However, the cheap air tickets under 50 Euro (for 4.5 hours flights), the endless possibility to hike amidst some incredible landscape and of course to escape the German winter were my 3 solid reasons to give it a try.
The Spanish call it – La Isla Bonita (remember the song from Madonna?) translated as "The beautiful Island" and I couldn't agree enough to it.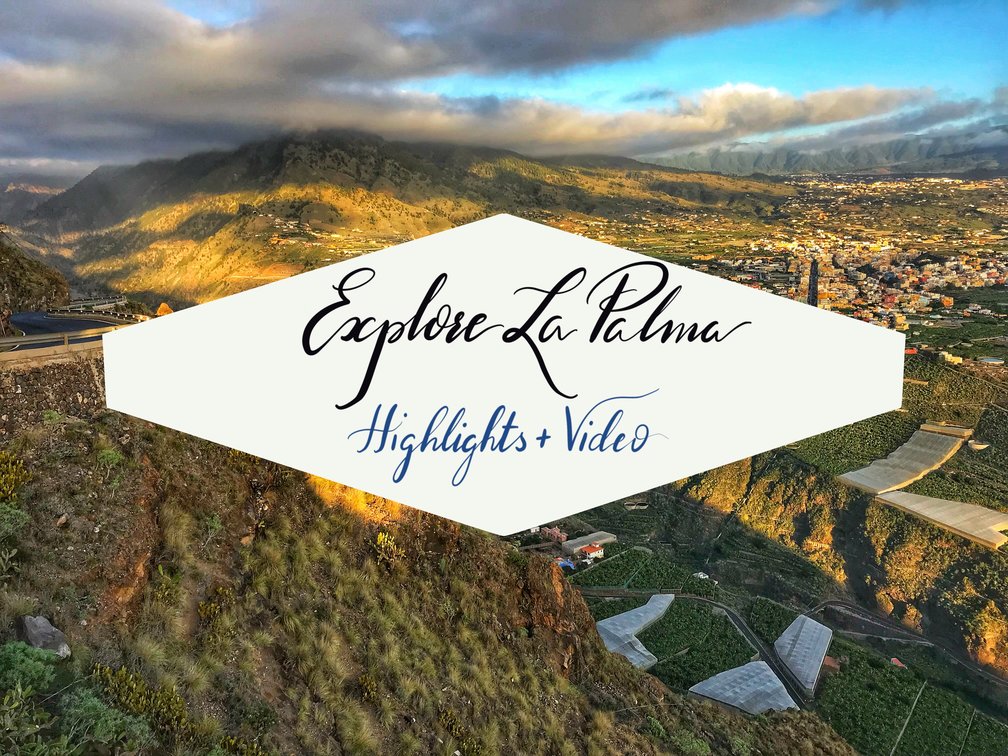 Watch a quick video
Here's a glimpse of our highlights of La Palma in a short video. Enjoy!
How to reach?
We flew with the Budget airlines (Easyjet) from Basel Airport. If you are flying from outside Europe, you might need to hop on a domestic flight from a major European city.
How to get around?
There is a bus system but to explore the island it is recommend to rent a car directly at the airport. That's how majority of the people explore the island. If you are planning to hike in the Caldera de Taburiente National Park, you can hire a taxi to the drop off point.
Where to stay?
La Palma is not so touristy which means there are not so many hotels. There are plenty of country houses, apartments or lovely Fincas (old Spanish fam estates) which you can rent. We divided our stay into 2 accommodation – east and west side of the island. I would recommend this due to the hilly terrain, it takes forever to drive even the shortest distance (There is hardly any straight road). 
This is our first accommodation – Casa Rosa Maria, 15 mins from the airport. But it is peaceful! This country house has the most beautiful garden with all kinds of fruits – papaya, orange, lemon, pomegranate, guava. Pick anything you like for free! There is a lovely terrace where we had our breakfast every day. Here's the Airbnb link. Dinner and super market options are within 10mins drive.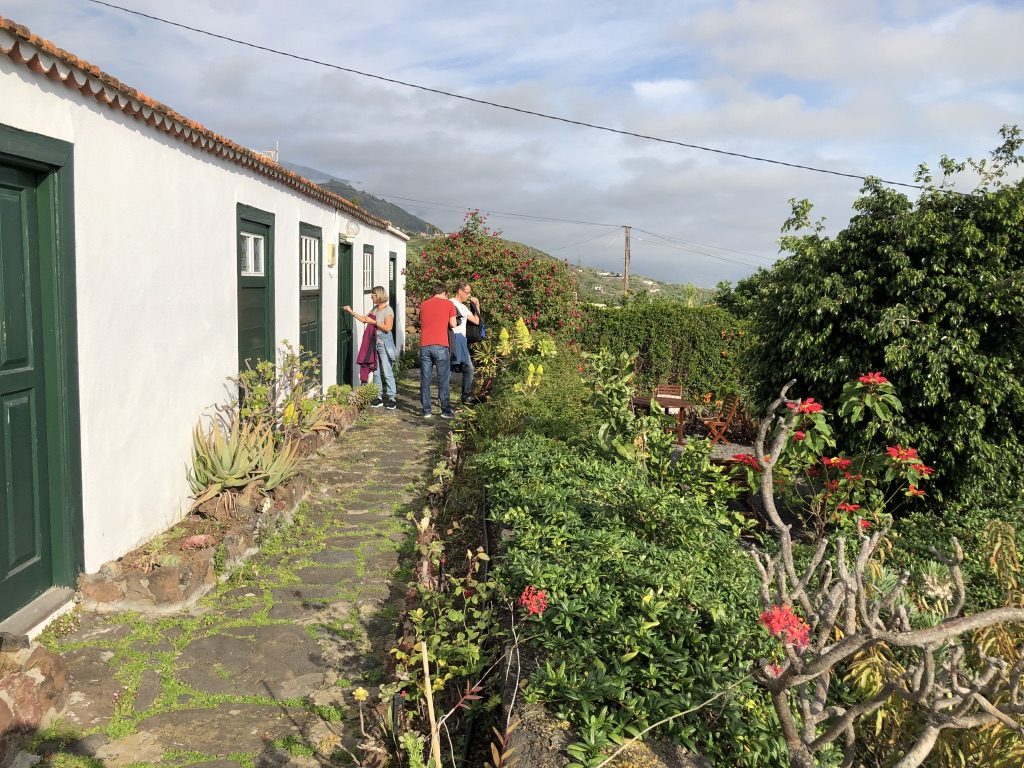 This is our second accommodation – Finca Bella Sombra, a beautifully restored 200-year-old Finca with the most amazing sunset views of the ocean and foggy mountains. The huge garden with several sitting areas and a saltwater pool definitely makes it a luxury option. Here's the Airbnb link. Dinner and super market options are within 7mins drive.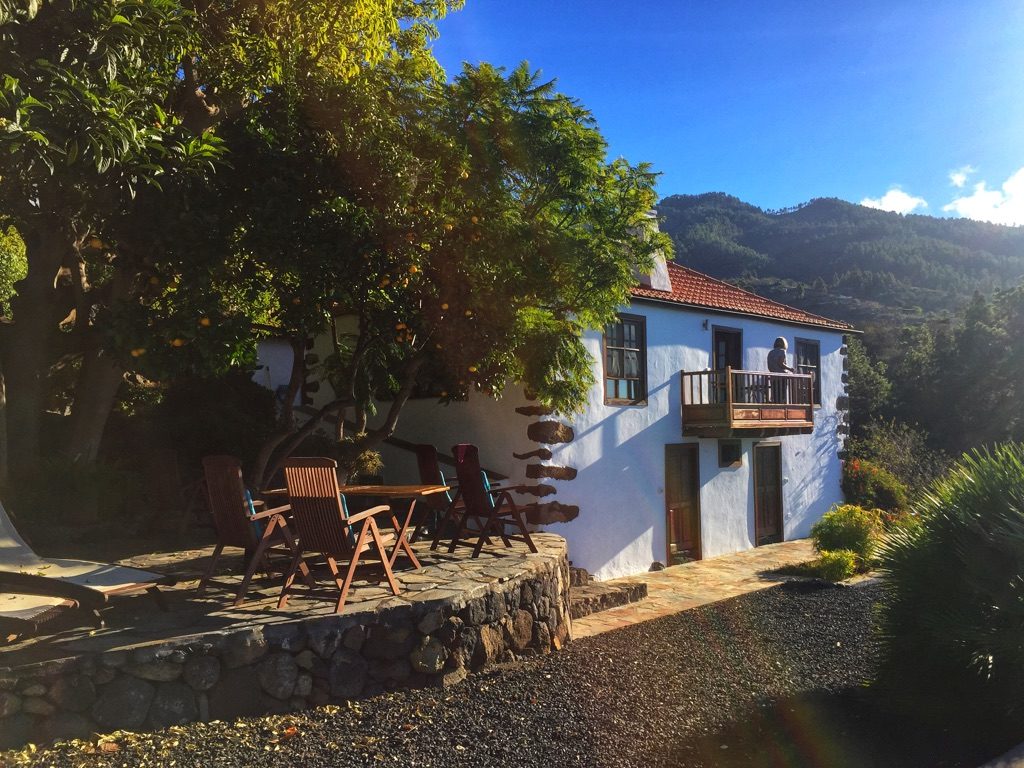 What to see?
This pretty island will amuse you every 10mins with unspoiled nature in huge dosage – from lush rainforests to dramatic volcanos, from serene pine forests to the black sand beaches. This island has everything you ask for. I have listed down few of my favorite spots:
The southern region of the island consists of all the recent volcanos. From volcano San Antonio you can have a spectacular view of the island. You can walk along the rim of the crater and also drop by the information center where it is explained more about the volcanic activity throughout the Canary Islands. The entire area with huge expanses of lava stones and rocks gave me a moon like feeling – indeed very dramatic.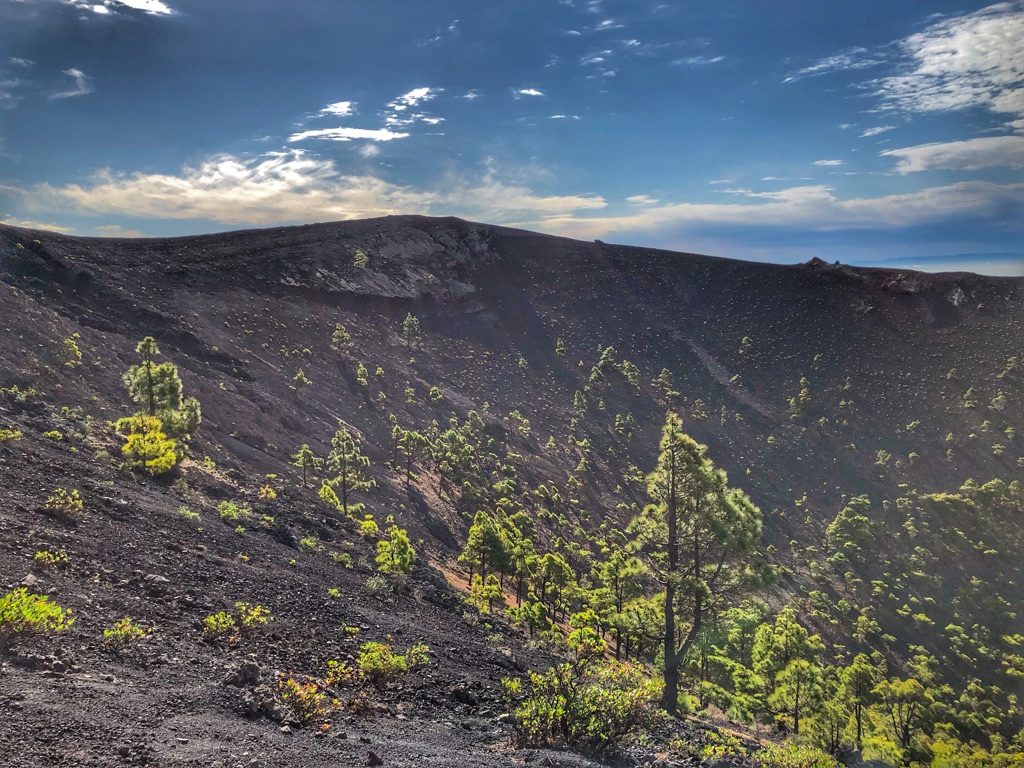 Salt pans of Fuencaliente
Sea Salt pans alongside the old lighthouse yield the excellent flor de sal (salts) in amusing pink salt lakes (due to a pink salt-phillic algae). We took a quick 30 mins walk along the salt pans. I was totally fascinated by the white salt cones contrasting on the black soil.  I even bought myself a salt packet as a souvenir.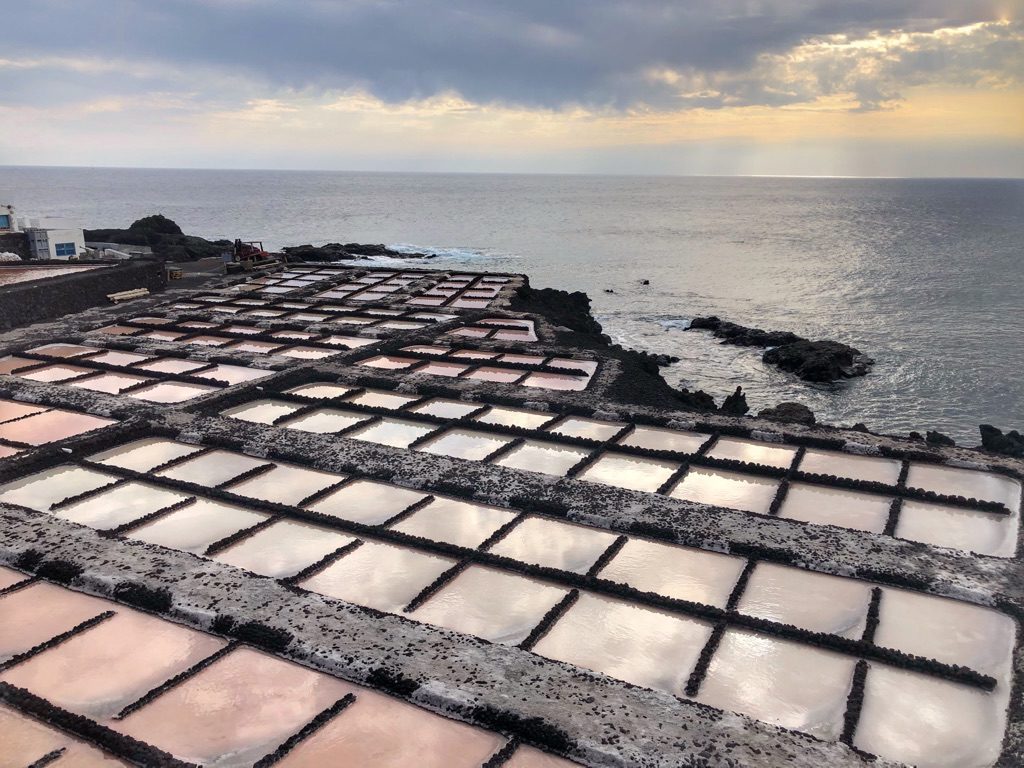 Laurel forests of Los Tilos
Emerging a million years before the southern volcanos, this oldie in the north is covered with explosion of biodiversity and greenness that you will fall in love immediately. You can drive upto the visiting center at Los Tilos where the road ends. From here you can embark on your laurel forest trail hike. We choose the shorter route of 2.5 hours to and fro until the Espigón Atravesado viewpoint.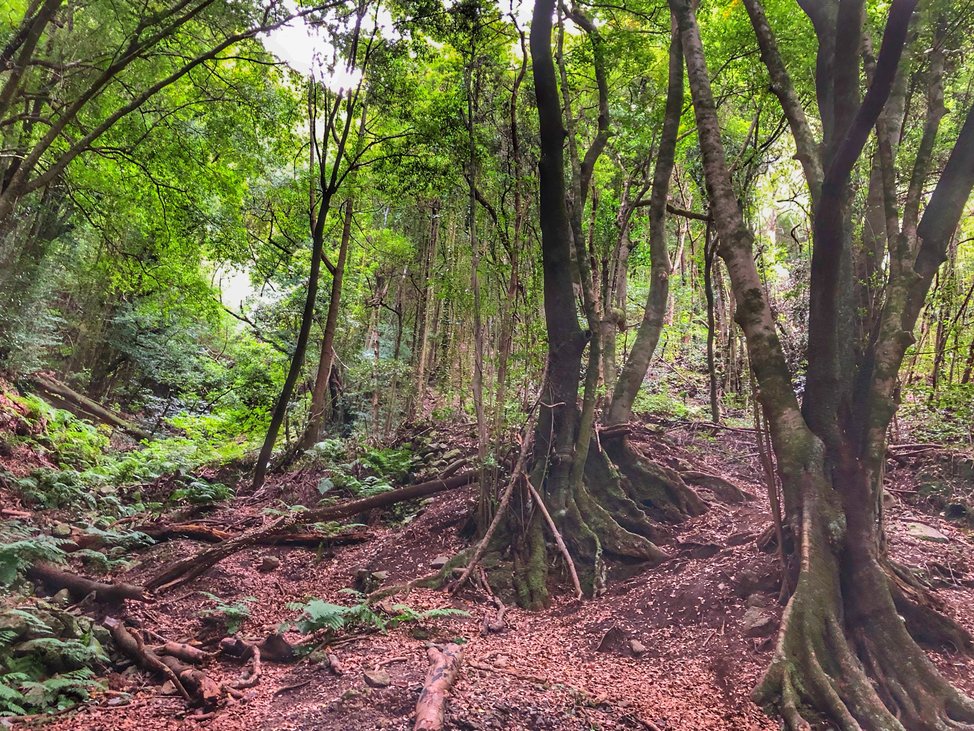 Playa de Tazacorte (Black sand beach)
Relax at the black sand beach. This is the island's longest beach and whether you choose to sunbath or take a swim, it is the perfect spot to relax. Lined by a good number of restaurants and Cafes, you won't be hungry either.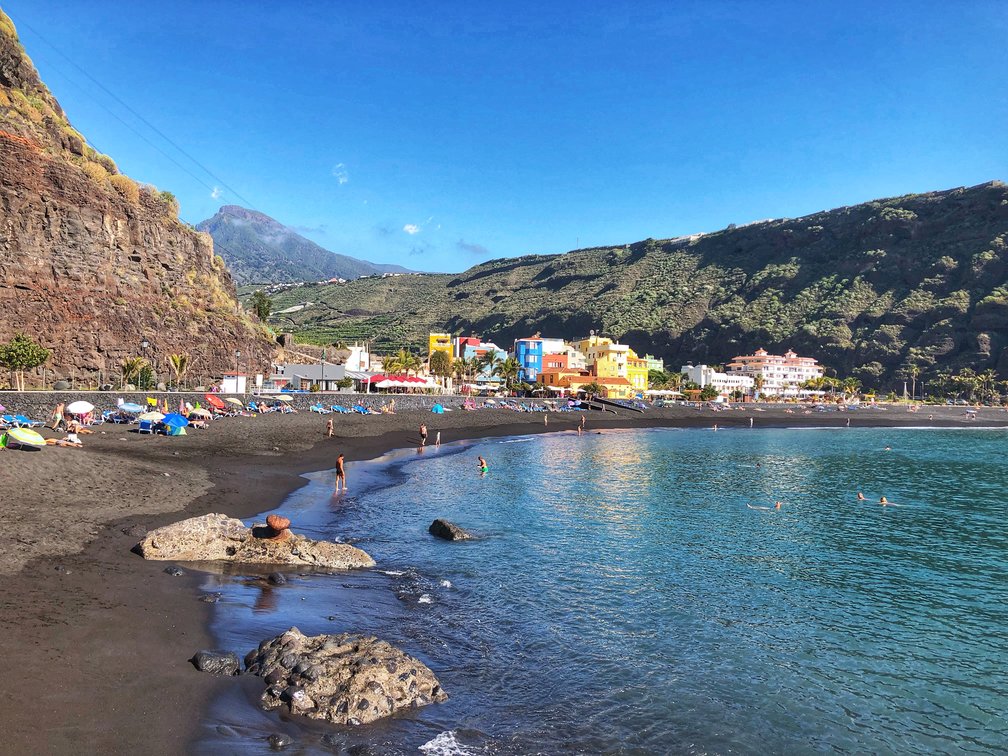 There are over 1000 hiking trails in La Palma. Depending how active you are feeling, choose a nice hiking trail and explore the nature.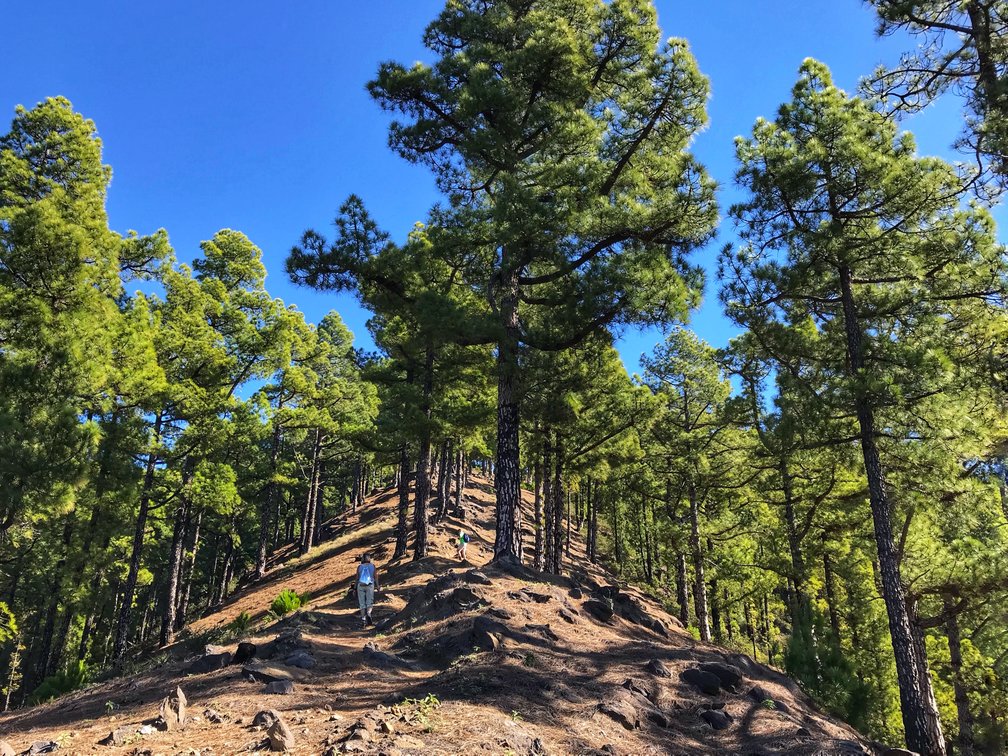 Roque de la Muchachos (Highest point in La Palma)
Pay a visit (drive or hike) to the highest viewpoint of La Palma located at a height of 2400 mtrs above sea level. From here you can even see the neighboring islands of Tenerife and La Gomera. La Palma is one of the best places for star gazing and has been officially  designated as world's first Starlight Reserve. If you want to get a closer look at the cosmos in La Palma, climb up to Roque de la Muchachos or book yourself a guided night tour. Unfortunately, we did not do that.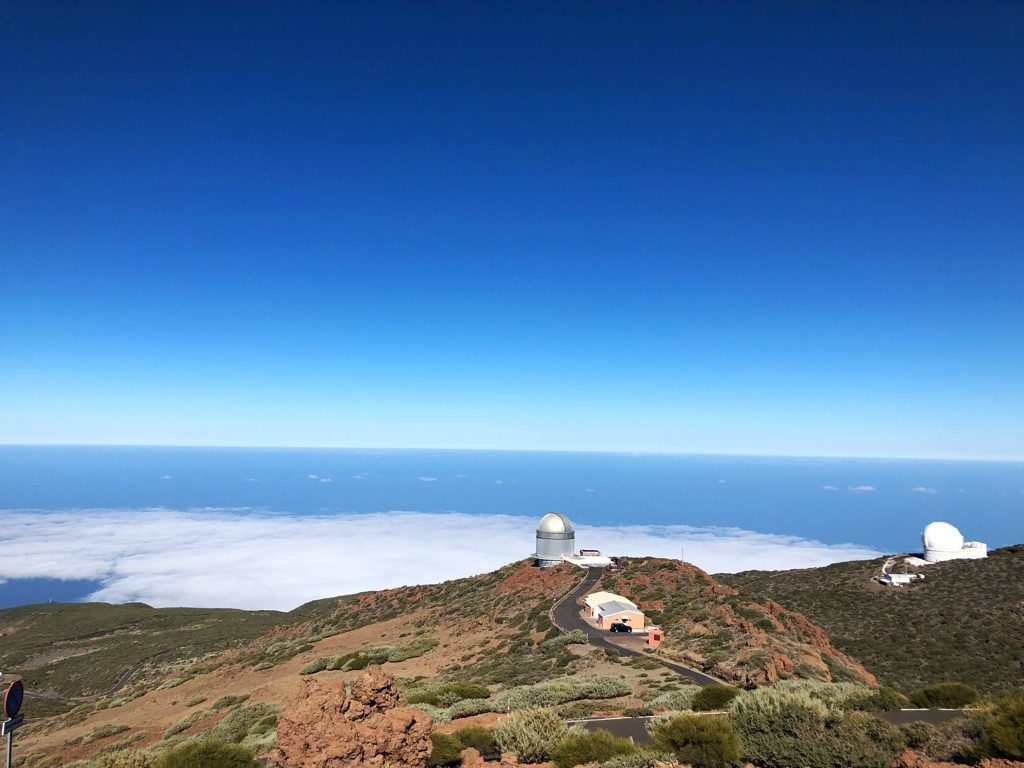 Explore the city Santa Cruz
Santa Cruz de La Palma has a very unique colonial flair with beautiful balconied houses. The colorful building in various shades of red, chrome and ochre paint the most iconic pictures against the contrasting black earth. Meander through the old town and indulge in a nice coffee or some savoring Tapas.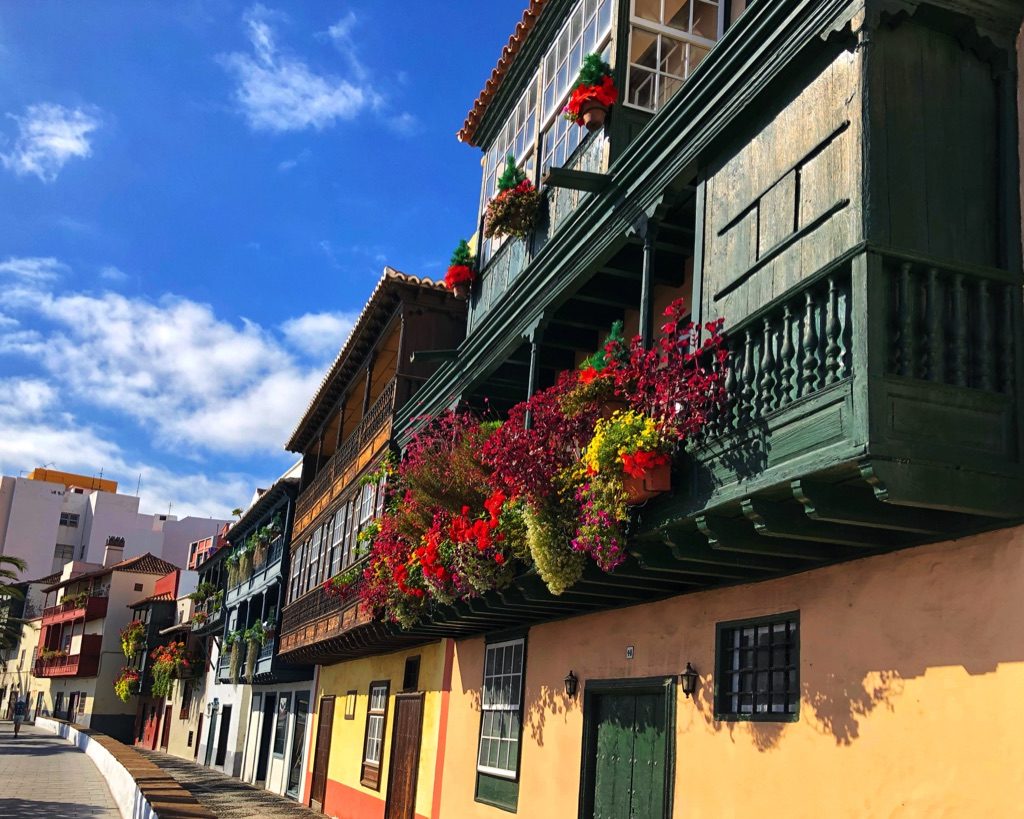 What to eat?
Pan fried papas arrugadas – wrinkly potatoes served here with a piquant mojo palmero (garlicky pepper sauce) is a local delicacy. And then there are superb seafood (prawns, cuttlefish, seabass etc), locally produced fruits such as bananas, pomegranate, guava and oranges.
Wine from the Fuencaliente area is also very famous. Visit a winery if you have some time or sample a local Malvasia wine.
Overall food is really cheap and affordable.
Conclusion
If you are an individual who appreciates the beauty of nature and the quietness of being far away from the madding crowd – head to La Palma. Be lost in her diverse color palette of neon green ferns, black volcanic sand, blue waters, orange yellow houses, pink and red flowers. She is indeed a beauty.
La Palma can be visited all year round! And it definitely should be in your bucket list.