Instagram has awakened the little photographer within us. The perfect combination of our mobile phone camera and photo editing apps helps us capture those perfect moments anytime anywhere and share it instantly with the world. Honestly, I have stopped carrying my DSLR to my holidays in the last years. Almost all my photos in Instagram are shot using my iPhone camera.
Trust me! A lot of your creativity and freedom in photography comes from post production or post editing, where you can play with the colors and create a certain mood or emotion. You don't even need any previous experience to create spectacular photos, just need an eye for creativity.While I am definitely not an expert, but today I would like to share with you my favorite photo editing apps for Instagram.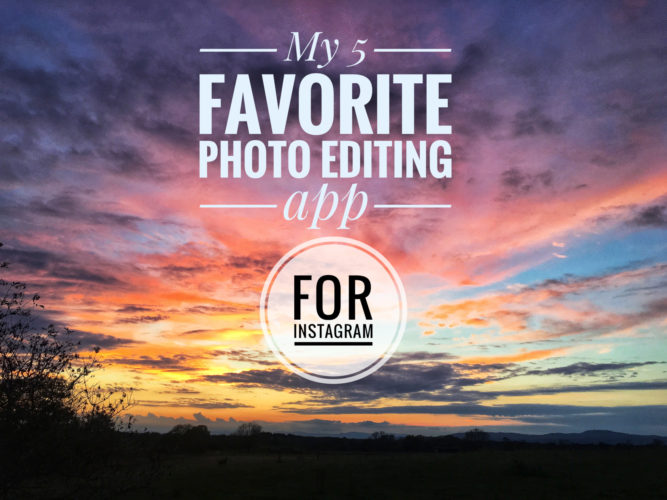 Google Snapseed (Perfect post editing tool)

My favorite go-to editing app and I am sure it is the most popular editing app too! This app is a great choice for editing color, brightness, saturation, sharpness, exposure as well as white balance. I am not huge fan of its filters and use the app only for slight retouch and enhancements. Another cool feature is the "selective adjust tool" which allows you to select a portion of the photo and isolate your adjustment of the exposure, contrast and brightness.
A Color Story (Filter for every mood and emotion)

The brainchild from the creators of "A beautiful Mess", this app has all the amazing filters to take your Instagram account to the next level. Although the app itself is free, the filter packages needs to be bought and trust me they are totally worth it if you are planning to build a personal brand. The app has a "preset" feature and is useful if you would like to pop colors to your picture.
VSCO (All in one – shoot, edit, save, upload)

A hugely popular photo editing app which offers a community for photographers to connect and create. Simply searching the Hashtag #VSCO on Instagram and you will know what I am talking about. Along with the regular photo editing tools, this app has a built-in camera allowing you to capture the perfect shot, edit, save and upload all in a single app.
Unfold (Best for Instagram stories)

Unfold is my latest discovery! It helps to create beautiful and engaging stories with easy to use templates. I am a huge fan of its minimal and elegant templates. It is the best choice for those who would like to have well curated images for an influencer look. The color coordinated borders and captions in flowy calligraphy fonts have dominated my Instagram stories.
Pixaloop (Perfect for animation)
This app brings life to your photos. No! I am not taking about live photos clicked by iPhone. This app creates animated elements in your photo – strands of hair, waves, clouds, water or clothing. You can even control the speed of the movement. From the ripples in the water to flying clouds, from swaying hair strands to the cascading waterfalls, you can animate everything. You definitely have to try this app. Not only it creates awesome pieces of Art, the process itself is so much fun.
These are my only tools which I use very frequently to touch up my mobile phone photographs. Please do let me know what are your favorite apps? Head over to my Instagram page to have a look at my photos.