Jogjakarta
The much waited day of my week long trip across Indonesia finally arrived and I was on cloud 9 already. I along with my 4 Czech friends reached Yogyakarta- our first desination. First impression was a feel back home in a both good and bad way. The chaotic unruly traffic, crazy zooming motorbikes racing their lives out reminded me so much about India. The not so manicured gardens and streets and localities treating us tourists as next wonder of the world anxiously waiting to click pictures gave a feeling of me being a tourist in India.  Carrying boulder sized bags on our shoulders we were much of a bag packer. Since we already had it concrete in our minds to travel cheap, we decided to board the bus to prambanan temple, the only Hindu temple dated centuries ago which Jogjakarta boasts of. I was startled with the very funny buses and the funnier stops but the ride to the temple was a joyride. After walking a few meters we could witness the mammoth monolithic temple which was a feast to our eyes. It was an epic moment to visit a Hindu temple outside India which was centuries old yet so captivating and remarkable in its own way which possessed temples of shiva,Garuda,Nandi,Ganesha all carved of rocks magnificently. After ending a couple of hours at the temple we decided to return back to our hostel. After a joyous, bumpy ride in Indonesian bus and a walk of half an hour we ended our day as we reached our hostel and crashed dead on our bed.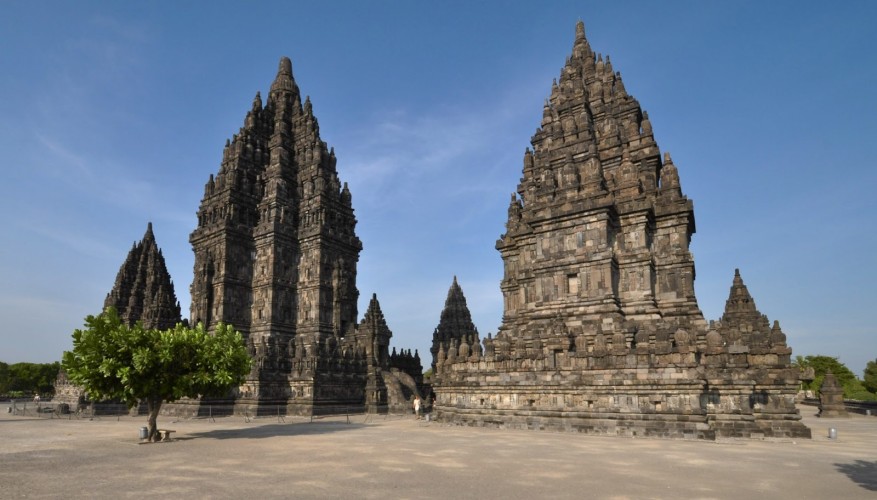 Our next day kick started at morning 8am. Grabbing our complimentary breakfast of nasi goreng we a group of 9 decided to explore the city and started our journey across the streets of Jogjakarta. We explored the Krotan castle, puppet show, museum and water palace which was once inhabited by the sultan. The architecture and the culture seemed so familiar to my Assamese heritage and I could clearly trace the lineage. Unfortunately we couldn't make it on time for the borobudur buddhist temple for sunset but the workers were extra hospitable to offer us a guided tour along the temple exteriors which was still a consolation for our sad minds.  Language and communication was a bit of a problem in the city as the people  nodded their heads and accompanied it with an "YES" for every single question even though they literally din't mean it.  Funny words like "NO HAVE", "EMPTY" were common amongst all localities. Carrying a lot of real-time experiences we started our 9 hours road trip to the volcanic mountains.
Mount Bromo-EAST JAVA
This 9 hours journey to Probolinggo was itself an epic for me. The driver had genes of Michael Schumacher in him that his crazy cravings with sharp turns making us topple over every 5 mins. The toilets were without any proper sanitation and all we could survive on was Nasi Goreng(staple food for Indonesians) as that sounded familiar to us. At Probolingo we were greeted by a local with a welcome speech ("Welcome to Probolingo,I have a very important information.. only double or triple..") With a very funny accent which he must have practised really hard for a couple of days because after that he couldn't speak a single word of English anymore. After a change of jeep we were at the hills(YOCHI HOTEL) for a night at an altitude of 2300mtrs and took a power nap for 2 hours before we started our hiking at mount bromo.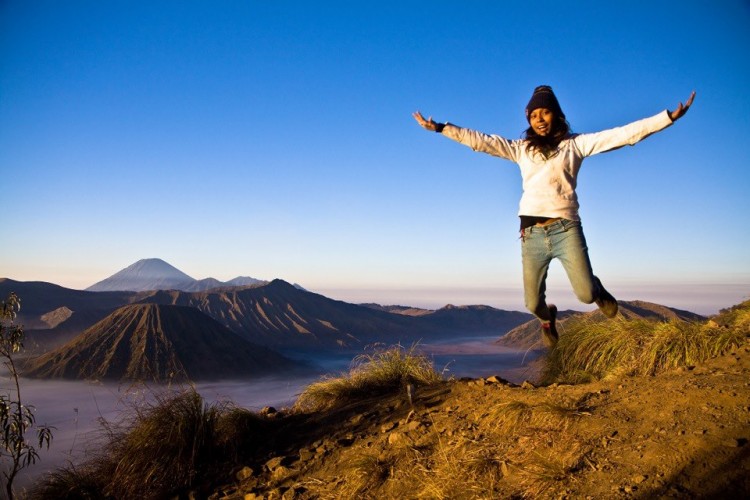 The walk to sunrise viewpoint at Mount Penanjakan where I observed tranquility and nirvana amongst the sea of clouds, the surrounding volcanoes that I barely cared about the freezing cold winds that chilled across my spine. To view the crater at mount bromo we travelled on horseback and then climbed a steep fleet of 245 stairs. The magnificent view of the crater filled with sulphur and smoke was remarkable.  With the last eruption in 2011 the fence had been blown away and there was no protection what so ever and the rim was very narrow, people stopped to move on the rim there were it got less than 1 metre I guess.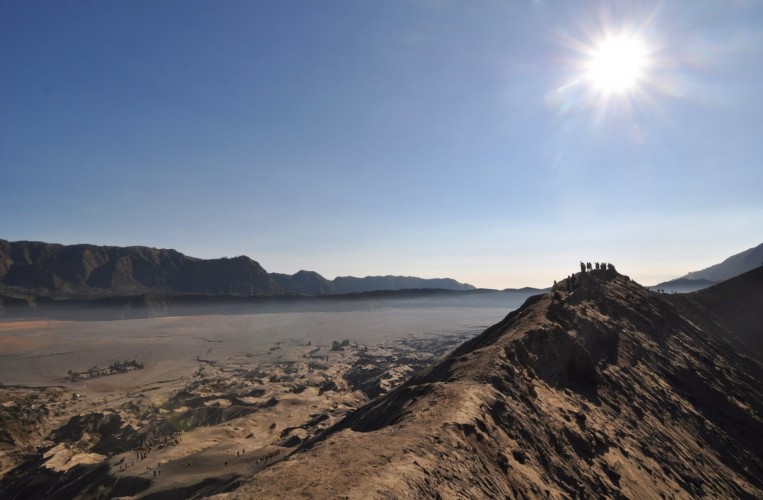 So eventually we all were standing in a very treacherous place caring little about the danger of falling into the super massive infinity hole. After spending a couple of hours we headed back for our last destination -Bali and trust me i was super exhausted.
Bali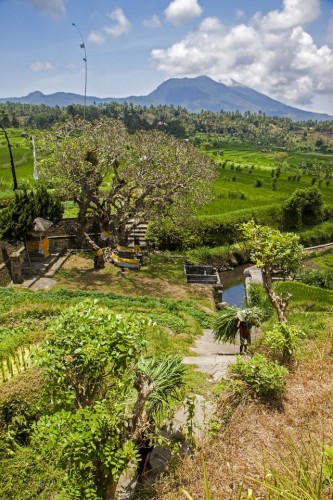 The journey to the province of Bali was a combination of road and sea travel. We stayed at Kuta which is the haven for tourists and the main beach town overload and busy. Spending a lazy day basking at the golden sanded Kuta beach watching the surfers was the most relaxing day ever after I shifted to Singapore.  However the numerous hawkers was a bit disturbing peddling their wares – massage sir? Ice cream sir? Crossbow sir? (Who the hell wants to buy a full size crossbow on a beach?!?). They do take no for an answer though, which is a refreshing change. The 'baked fried incident': even if the sky is cloudy and you're only on the beach for an hour, you still need to apply sun lotion. I should've known better. By the evening I looked over fried and burnt .We hired a car and made our way to the mother temple of Besakih(hindu temple) where all I could witness was ripping the tourists off their money in the name of donation to the temple authority where all the money went into the pockets of the villagers and the temple was not maintained in proper condition . It was a sheer disappointment and a shame for me being a hindu.  

The rice paddy field and terraces were so lusciously green that it was a feast to my eyes. Hopping along the edges of the paddy land we clicked a picture or two with the local farmers and it was an amazing experience. We decided to hire motorbikes to explore the island of Ubud which was very rich in hindu cultural heritage and a very clear depiction of the movie/novel "EAT,PRAY,LOVE". It is very exotic and had a completely different vibe from Kuta with its streets smelling strongly of incense sticks. . It's a shopper's paradise with thousands of arts & crafts shops, dresses and apparels etc. A visit to monkey forest was exciting as it was a forest full of monkeys and it was a bit scary as they were not hesitant to climb on the tourists and a lucky one peed on my friend too .It was hilarious!! The ride across the city getting lost due to wrong navigation was totally a different experience and we loved every moment. However being charged and fined by the police two times was again frustrating.
Stuffed with a bag full of joyful, stressful and weird experiences I headed back to Singapore. I am sure all the fantastic moments I witnessed in my week long trip will remain green in my mind for a lifetime