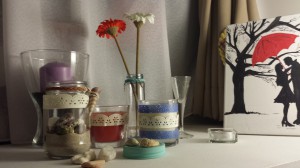 Right after I was back from my beach holidays, I was totally up for a sea, sun and shell theme in my room. I knew I wanted a corner with a little dash of beach upshot. A beach themed mason jar strikes my mind. I hunted my DIY carton for the used up sauce jars cleaned for my DIY projects.
Things we need:
Mason jar, sauce jar
Doily tapes
Glass colorings
Shells (collected from several beaches around south east asia)
Beach white sand (collected from the beaches of Thailand)
Mod Podge
Twines, charms, threads for decorations
Time needed:
1 day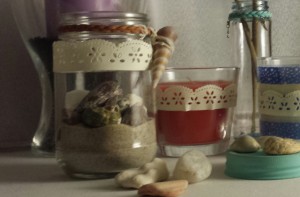 Steps:
Clean up the Mason jar, sauce jars with alcohol to remove stains and fingerprint traces. Apply a descent coating of mod podge into the jar. Throw in the glass paint into the jar ( I added medium quantity as I wanted the light turquoise effect for a sea look).
Turn the jar upside down and let it rest on a flat surface for overnight. Next day place it in a preheated oven of 140 degree Celsius for 10 mins to ensure that the color has stuck well to the glass surface. (Many blogs suggest food coloring but I would suggest for glass paint as it ensures durability and uniform spreading of color across the surface.) Wohooo you tinted jar are ready.
However u may skip this step if you prefer to have a more neutral transparent look.
Fill the jar about a quarter with sand and throw in your favorite seashells and corals into the jar.
Decorate it with lace, doily tapes and twines or threading for a beach inspired look. U may also place a tiny tea light candle for a beach themes mason jar candle.