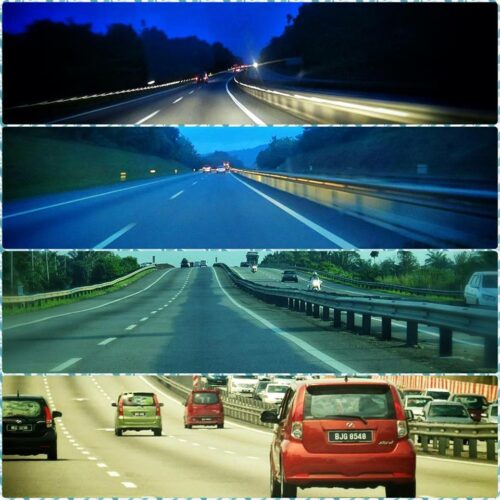 It's good to take our holidays on wheels. Hence it was a impromptu decision for me to join my four friends on a road trip across the west coast of Malaysia. As you never know when wanderlust invades our minds. We started our journey from Johor Bahru abode Proton saga which proved itself to be a very reliable vehicle on the road. We covered a distance of 600 kms in a duration of almost 10 hours with regular breaks and intervals with a maximum speed of 150 km/hr. All i discovered  through this road trip is that one gets some much time to relax and think as they drive through changing landscapes and topography. Zooming past the hills, concrete buildings, bridges – welcoming the first blush of sunshine breaking the dawn or wiping out the rain drops as they trickled down the window panes  was in itself a heart stirring feeling. Moreover watch the  sexy bikers ride to their glory gave me the feeling of a live spectator of the game called road rash which we played in childhood.As we drove through arrow straight expressways with awesome music playing on the stereo,all I could experience was a feeling of tranquility around me. Laughing at anything random, singing out loud until our voices cracked, acting silly yet funny- these tiny ingredients added cherry to the cake for our journey. The funny and fascinating things we noticed on our journey was the awesomely maintained roads, funny translation of actual English words in Malay which seemed to a word misspelt by a kindergarten child(teksi,technikal, informasie,doktor,muzium and so so), petrol as cheap as water…
Georgetown at Penang was a completely a colonial affair.loved the rustic victorian architecture and the new mammoth towering building which clearly depicted amity between the archaic and contemporary lifestyle. driving past the giant bridge which connected Georgetown to mainland was truly amazing.the picture perfect view of stray sunbeam playing hide and seek with the fluffy clouds was worth a million dollar click. Making pernisian gurney streets of Georgetown as our haven, we enjoyed two exquisite seafood cuisine comprising of crabs,prawns,fish thus proving ourselves to be gluttons of all The sea.I must really admit that Food at penang is one of the best I had ever had in Malaysia and its worth every penny. Other than hogging on our favorite seafood we decided to drive along the island and discovered a very beautiful rocky beach down south of the island called queensbay. It was very relaxing to watch sunset sitting on the rocks and sharing some light moments. This placed was mainly inhabited by the localities enjoying their Sunday evening with their families and kids munching the street food and sipping copi/teh. We also gave a visit to the hackneyed batu feringgi beach which according to me was nothin special and the water was too murky to go for a real swim.  I decided to enjoy the sunshine and lounge lazily on the beach for a few hours as my friends took a swim. We spent rest of the evening drinking beers and wine by the bay front at gerogetown as the cool salty breeze made us happier with every sip of alcohol. The entire place had an relaxing aura which proves to be the perfect haunt to take a break from killing work schedule once a while.
This road drive has added a remarkable chapter to my south east asia travel memoirs. it takes only a journey to Create a memory for a lifetime indeed.
Takeaways from the trip
Signboards are not in English specially in toll gates making it difficult to interpret which exit to take. It's better to cosmos basic homework on Malaysian language.
Advisable to stay in Georgetown rather than butterworth.
Siam seafood at Pernisian gurney street is a must for those seafood freaks
Travel from Singapore to Johor Bahru is the only pain in the journey as the bus frequency are so less that it kills you to death.
Good company and good music needed to enjoy the travel.