There was for sure dozens of butterflies in my stomach. I was about to go for my very first EUROTRIP. Something of which I dreamt of years and years! So I started my voyage abode Lufthansa to carry me miles away over the oceans and hills 😛
As my flight landed in Basel International Airport, I had the warmest welcome ever. My boyfriend's parents and brother was waiting for us holding a large placard "WELCOME HOME" . It was such a saccharine gesture and I almost cried. As we drove past the beautiful countryside of Germany my jaw dropped in awe. I read it right as a child; it looks like the mirror image of the fairy tales. Beautiful green foliage of pine trees, large stretch of meadows touching the sky at the horizon, primed villages with lovely houses – I felt I was in PARA- PARA – PARADISE. We were jet lagged for 2 freaking days so we decided to take it easy and check out the countryside rather than doing something touristy. We explored through the vineyards, strolled through the pine forests and the maize fields and savored ourselves to awesome home cooked dinner and wine from the backyard winery.
Day 1 – 3 ( Baden local tour, Germany)
While being in the Baden area, my boyfriend decided to take me show around the forts and castles nearby. So we drove to Burg Rötteln located mountain offshoot on the Lorrach . The view of Lorrach provincial city from the top of the fort is magnificent. The museum with knight's costume, other weapons and a separate part for the witch of Binzen is really interesting. But the most amusing part was how much I drew the attention of the tiny tots, they might have not seen a brown girl in their village. HAHA!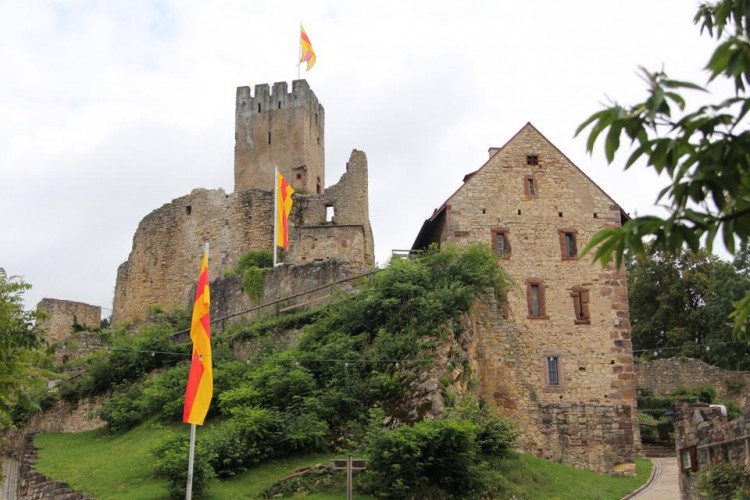 We also took a tour to the castle Schloss Burgellern, which was a small yet well preserved dating back to 18th Century. The carvings on the ceiling and the walls boast of the Rococo classical style. We took a detailed tour and learnt that initially this palace was a church and was later turned into a monastery.
Day 4 – 5 (Top of Europe , Switzerland)
We drove from our home ( Mauchen) via Basel to Grindelwald which is located at the base of the majestic Eiger, Mönch and Jungfrau mountains. As it was our plan to hike up to the middle station (Kliene Scheidegg) , we started our 4.5 hours long hike amidst the beautiful alpine valley, pine trees and cattle fields. The clattering of the cowbells was such bliss to my ear. We hiked up having a magnificent glacial view of the Eiger zig Zac –ing our way with the railway tracks. I was totally exhausted and drenched out but my boyfriend kept me motivated throughout the last hour not with inspiration but with his usual way of sarcasm which I adore! And yoohoooooo!!! We made it and treated ourselves with an ice cold beer. We chilled for the rest of the afternoon in our cabin terrace. Next day was our railway ride to the summit – Jungfrauhoch ( TOP OF EUROPE). Standing amidst the snow-capped mountain the views extend from the Aletsch Glacier to the Jungfrau . It was a really an experience of a lifetime. We decided to take the scenic train downwards after spending the morning in Jungfrau and drove back home with lots of wonderful memories in our mind and pictures loaded in our cameras.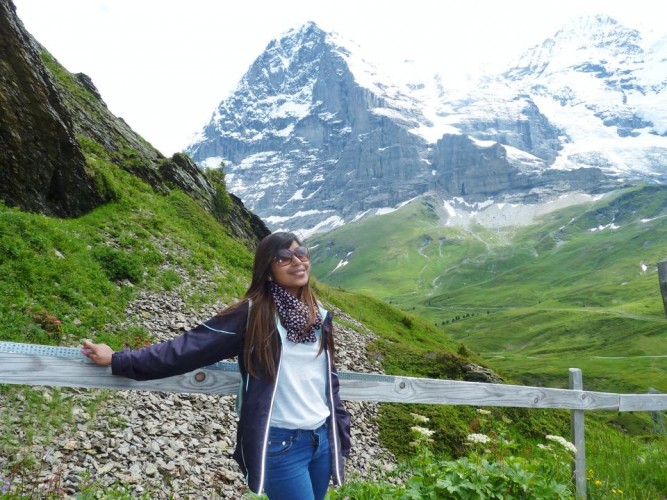 Day 6 – 8 ( Prague, Czech Republic)
Our way to the next destination Prague, was a long road trip across the black forest. We also took a 2 hours break from our and took a short de tour towards Hohenzollern Castle located at the Schwäbische Alps . It was a nice sunny day and we climbed up to the castle instead of opting for the shuttle bus. The view from top was amazing and we had a panoramic view of the neighboring areas. We took a guided tour into the inner castle (Ancestral Hall, ballroom, banquet hall, bedrooms, cellar and kitchen area) and later treated our tummy with a German lunch at the Castle – garden Kiosk restaurant. This place is worth a visit!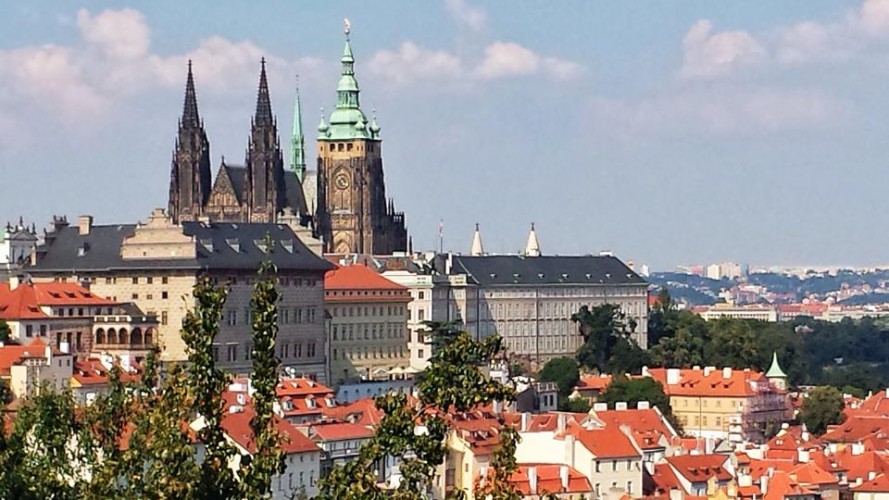 After a long drive of almost 8 hours we arrived in Prague. Our hotel was in the inner city square so parking was the greatest hassle. So lesson learnt : Please check in into a hotel with valet parking. Moving on, a weekend a Prague is enough to get a feel of the ancient city. As we wandered its cobblestoned streets and look to the castle lit up at night, it sometimes felt like you've been inserted into a fairy tale. But there is a touristy side to the city, one full of clichés and tacky souvenir shops drowned with magnets, mugs, shot glasses and glassware. My exchange semester buddies acted as the perfect tourist guides for us. We strolled in the path of Prague sights with pauses for fresh Czech beer on draft (if that's your thing), little cafes and hearty Czech goulash with bread dumplings so that you catch a glimpse of the real Prague along the way. Prague is a city best experienced slowly, at ground level.
We took a walk through Prague's tourist triad – Prague Castle, Charles Bridge, and Old Town Square and hiked up the hill to the tower, took a walk along the Wenceslas Square to get into the heart of Vinohrady neighborhood and jewfish Quarters. We often took breaks to quench our thirst with the draught beers. We ended our day sitting by the piers of the river. Prague is a city of castles and gothic churches and a perfect getaway for cheap alcohol and food.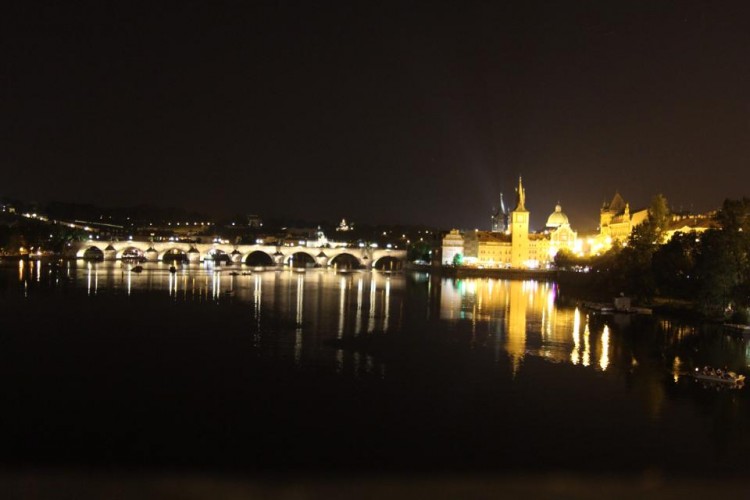 Day 9 -11 – Munich
I was excited for our next destination, Munich. We had a 2 days stopover to meet my boyfriend's school friend. I was equally excited to meet them. After a drive of around 3 hours we arrived at a really cozy hotel (hotel cocoon). The weather did not seem too promising and we could witness the advent of some strong rain showers. The evening was well spent in a biergarten gulping down my favorite Russen beer with some light conversations with our friends. We tried to do it the Bavarian style, by kick starting our breakfast with weisswurst with sweet mustard and pretzels. The skin is meant to be taken off, easily done with a sharp knife, slicing the sausage in half crossways, then down the length of the sausage, pulling the meat away from the skin. I struggled so hard with it that it was not even funny, and before I can create a mess my boyfriend chose to help. The Original way of having this sausage is sucking it out though I did not try it. Less adventurous me!!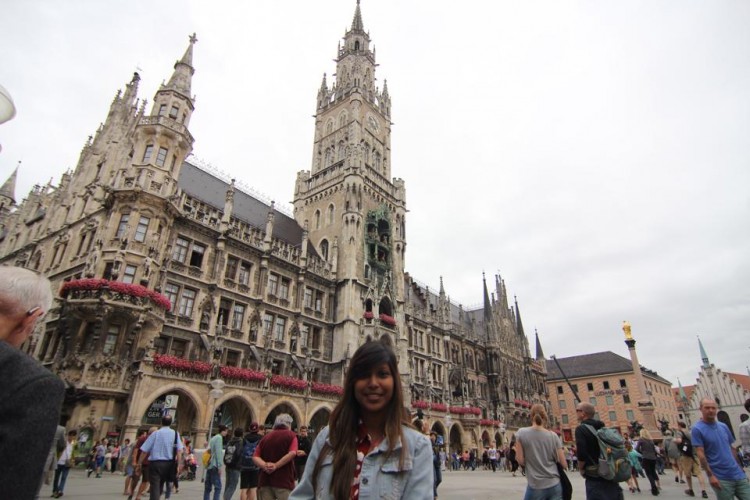 Though it was drizzling, we still decided on a walk through the English Garden, stopping for a beer at the Chinese Tower biergarten. This short walk entails a glimpse into the charm of the city, while combining tradition, and nature with a bit of the unexpected. Later we decided to go to the BMW museum. Was totally dumbfounded to see so many luxurious cars under one roof. The room was flooded with different latest models of BMW , mini cooper and of course the very mighty Rolls-Royce. My childhood dream of having a closer look at a convertible came true. I felt like a little elated child . Ha-ha.
We celebrated our last night in Bavaria at the most talked about Höfbräuhaus. It is the oldest brewery in Munich. The brewery has even been designated a historical monument. Drinking mass beer directly poured from the barrels was an authentic experience and no doubts we were sloshed by the end of the evening.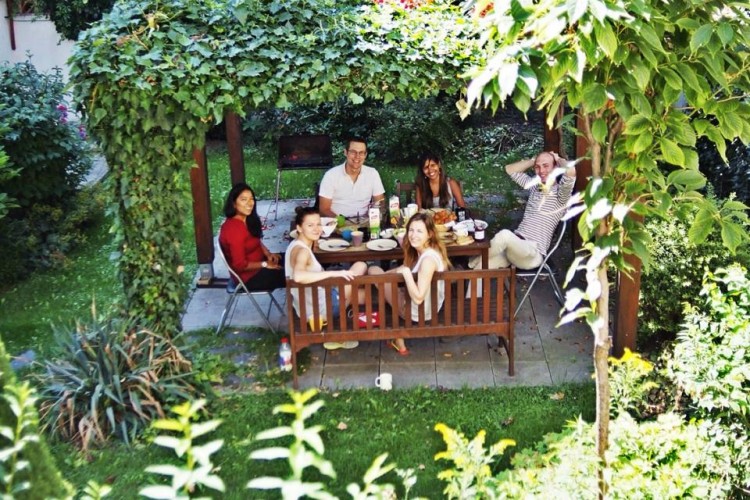 On our way back home, we decided to stop by the famous Disney castle Neuschwanstein. Lovely castle located on the Bavarian black forest providing a gorgeous backdrop. However the place was jam-packed with thousands of tourists from far and beyond. Hence we chose not to enter into the castle as we were still in a recovery process from our last night's crazy drinking. As a memory of our visit, we clicked some selfies and shots of the castle .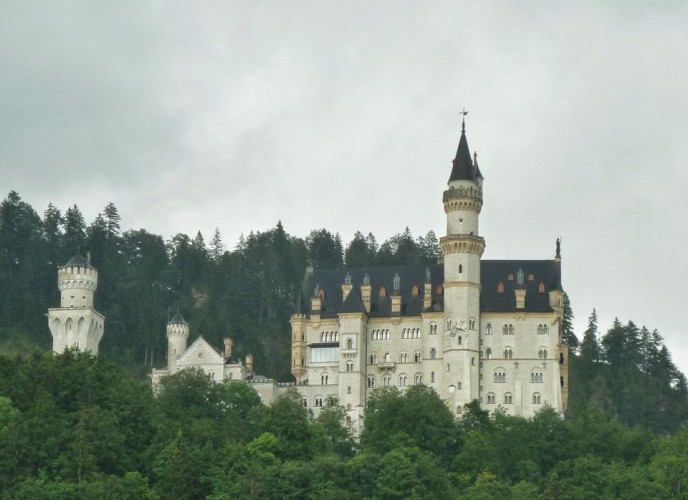 Day 13 – Day trip to Colmar, Blauen
My Boyfriend mentioned several times that a visit to small city of Colmar in the Elsace area of France is a feast to the eyes. Trusting his opinion in this, we drove on a bright sunny day to Colmar via the terrace hills of kaiserstuhl. We had a short Brotzeit on the garden benches and the whole atmosphere was so breath-taking. Later we continued our trip to Colmar which was a 30 mins drive. The city of Colmar was just like a dream city drawn out from an Enid Blyton's novel I used to read in my childhood days. With beautiful cobbled stone roads, flowers at every windows of the houses, a lazy river criss crossing the city at several points and beautiful flowers along the bridges was so exquisite. As they say : "the Venice of France" is accurate for this place. We went for tourist train city tour which equipped us with info about the history of the city as we made our way through it. Later we took a short walk along the over areas , stopped by some souvenir shop and ended our trip at Colmar with a wine for me and beer for my bf. Our next destination for the day was Blauen- the Blue Mountains. My Boyfriend had arranged for a para gliding session for me which for sure came to me as a surprise. With lot of reluctance and persuasion, I agreed to fly. However due to lack of thermal air, our session got cancelled. This for sure gave me mixed emotions. However we still opted to drive to Blauen and check the entire Baden area from the top of the hill. It was a bit chilly up there, but the bird's eye view was amazing. We also spotted our tiny village amidst the green vineyards.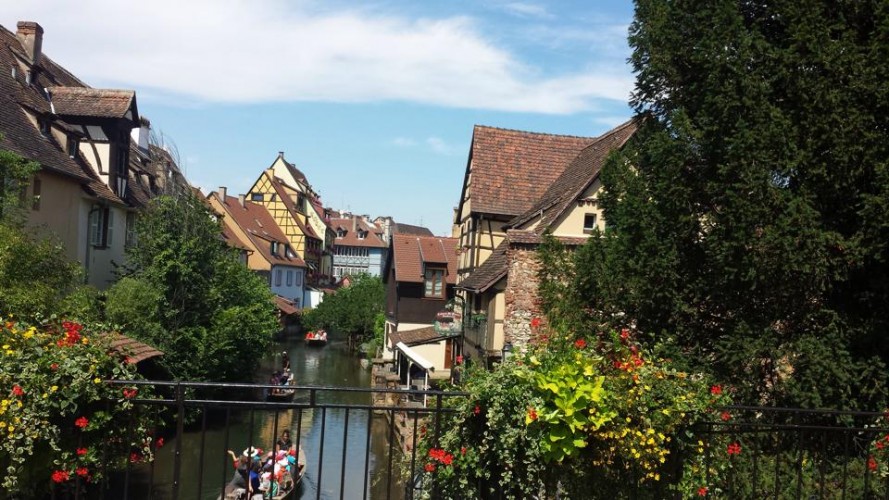 Day 16 – Freiburg
Freiburg is the major city of the Baden-Württemberg state. It is a very young laid back city with lots of students. The vibe around the place is very cosmopolitan and international. We drove to Freiburg to catch up with some work colleagues of my boyfriend over dinner. For the early parts of the evening, my boyfriend was my tourist guide and gave me the best tour ever of the inner city. We also stopped by the marketplace for a Bratwurst mit Brötchen((Bratwurst in a bun) which served as a delicious, inexpensive and authentic snack. He showed me around the cathedral which is one of the oldest in Europe with medieval architecture and gargoyles around it. However it was under constant restoration as the pigeon poop is very acidic to degrade the red sandstone.
I also spotted tiny canals criss crossing the pedestrian area of the inner city . We also walked to the old city gates – Schwabentor and Martinstor.
Rest of the days
We decided to take it easy for the last few days of my wonderful holidays. The parents of my Boyfriend hosted an awesome Barbeque party and invited the close relatives and friends. The food was so delicious- meat, salad, bread, dips, dessert and unlimited wine and beer. The people was so hospitable even though not everyone spoke English fluently, they were so welcoming to speak to me. This really won my heart. The evening was fun filled.
Finally it was my day to bid goodbye to Europe and return to reality. Bags packed, documents checked! My boyfriend and his parents drove me to Basel airport but on the way we stopped by to bid adieu to his Oma(grandum). We all did our last ritual of coffee and cake at her garden. Everyone including mum, grandmum and aunt baked awesome cakes. This very gesture was so heartwarming. Pictures get faded, but memories don't!! I met lots of lovely people, had tonnes of awesome experiences, and lived every moment of my 14 days tour to the fullest. I have for sure left a piece of my heart back here with a definite promise to return someday…………….