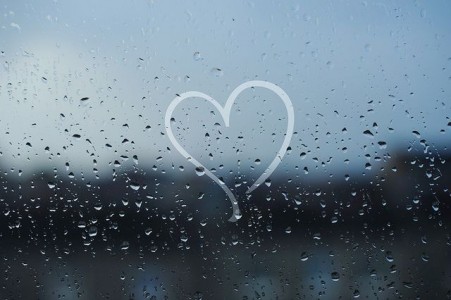 Rain is an ecstasy, a flooded stream with thousand dreams. The first shower of rain has been an integral part of my life. Personally for me the word monsoons itself uplifts me with upmost freshness and serenity. Singing the hissing tunes, as she dribbles on our roof, trickles on my window panes she fills me with a spasm of mixed emotions. Happy as everything around me is so fresh and clean, sad as I am outdoor person and rain showers keep me away from it. Monsoon evokes a sense of freedom and intimacy in our heart mind and soul.
The rain represents life itself. The rain is fertility itself, clouds pregnant with life bearing drops of sweet rain. The cracked criss- cross lines across the earth's palms get filled with the gushing streams of water as it makes its way downhill. The dehydrated foliage also revives back to life. The intoxicating smell of sprouting leaves, crisp air and not to forget dark ominous clouds rolling across the sky promising more downpour. All the trees look so green and washed and the water glistening on the leaves looks like beads of. The tiny house sparrow dances in enthusiasm in the mud puddles welcoming the rain with sheer contentment. The entire skyline seems so crystal clear which would have been otherwise curtained behind clouds of mist n smog. It is so amusing that every single bit of nature adores rain. Isn't it amazing?
Caught up in the web of nostalgia, I remember getting drenched in mud water on my way back home from school splashing out water from ever puddle  street taking way longer time to reach home than usual. This was a perennial phenomenon. I can clearly recall my the rain lilies of my mum which used to be in full bloom, all vibrant as the harbinger of yearly monsoons.
The Rains, has been a source of inspiration to poets and writers. Dark clouds hovering in the sky over a scenic beach with coconut palms swaying in the rainy breeze is one of the collections of an Artist's workbook. Moving from real life to REEL life, Bollywood has also carved out a magnum opus from monsoon rains. The most classic scene of an Indian couple dancing in rain or enjoying a tacit conversation with the rain has been predominant across the years that people around the globe associate Bollywood with rain dance.
But……As we have drifted away from our agricultural roots and as our ability to acclimatize with the natural manifestations has decreases, our intimate bonding with the rains have begun to widen and a huge hiatus is drawn between us. We are still smittened with the idea of the rain, we still look with anticipation at the darkening clouds, but we take a backseat when it comes with dealing with reality of rain. We lament and shun away stating that it is too damp, soggy, too uncomfortable and inconvenient to walk through and it ruins our shoes every single time we step out of our home. The puddles which used to be the sea for our paper boats are now a ready nuisance which stains our dress while we are in a hurry to work. The road blocks , slows moving traffic to an even more parsimonious crawl adds up to our cribbing list. We have empowered heat, with access to air conditioning and the winter is tamed with heaters; only the monsoon inundates us with its indiscriminate inclusiveness.
In the methodical orderly existence that we live in today, we are not willing for any kind of compromise. We are very comfortable in our self-created niche that our love for the rain is beginning to dry out. We want to live as mere tourists in our own life; the rain forces us to participate in the reality of the world we live in. We prefer ennui rather than joir de vivre that monsoons want us to do…………. We still love the idea of rain; if ………………………………………………………. only it doesn't drench us.