The CRAZY road trip: 22nd Oct, 24th Oct 2014
After seeing everyone uploading pictures of the ancient temples of Angkor Wat , a trip to Cambodia was always in my travel list. We took a flight to Phnom Penh as it is cheaper to fly there instead of Siem Reap and later took a cab from the airport. As planned, our cabbie was waiting for us flagging my bf's name in big blue letters. We greeted him and made our way to our Toyota Camry car. As we thought of enjoying the beautiful countryside of Cambodia in our 7 hours long road trip, it turned out to be utterly discomforting. Being born in India I should not complain about bumpy roads but this was beyond expectations. The roads were unpaved for more than a stretch of 100km and there was a reddish haze on the street which reduced visibility to almost negligible. Though sudden downpour helped to ease out the dust and made it easier for the poor driver to drive faster who constantly complained in his broken English "crazy people, problem road!" But the rain created massive puddles on the roads as size of a crater which in return painted all the cars on the street mud red. the We stopped by a local highway restaurant facing a beautiful marshy pond and savored some Cambodian food. The essence of lemongrass on the food was so refreshing that I smelled my food more than I ate. However right after lunch, my tooth started to hurt. I had a massive attach of tooth pain and it increased exponentially. I cried for help pleading the driver to stop by any pharmacy. My poor boyfriend also felt helpless about it and then suddenly we spotted a dental clinic in the middle of kampong Tham (village). As we walked in , we saw the dentist chilling on a hammock and he seemed not much entertaining towards foreigner patients. He did some minor flushing for my infected tooth and asked me to survive on paracetamol until I return to Singapore. Since when is paracetamol used a painkiller???? After struggling with pain and hip – hopping on our car through the bumpy road we arrived in Siem Reap.
Tomb Raiding Time: 22nd Oct- 24th Oct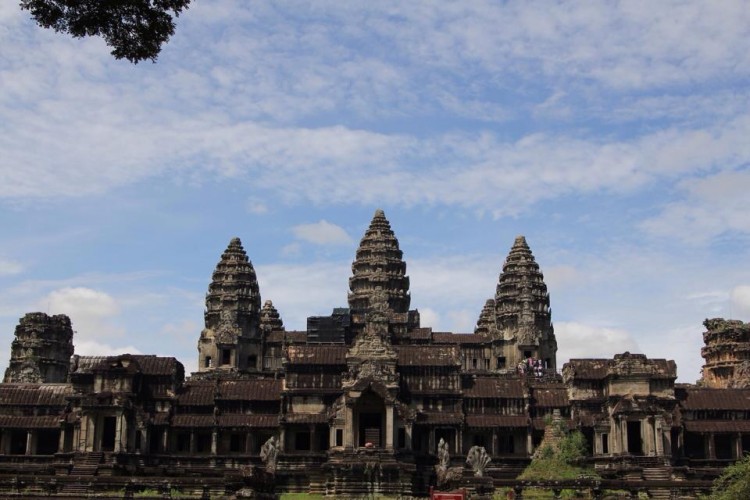 People in Siem Reap were very polite and hospitable. No one tried to overcharge us for the tuk tuk rides or the souvenirs and the food/beer. Sure there were children typical to south East Asian countries who tried to sell are some stuff but this was something which we already knew. We were also welcomed in our resort (Model Angkor Resort and residences) with a complimentary wine and good service. We dipped ourselves in extreme luxury by chilling by the pool, relaxing at the hot Jacuzzi, sipping inexpensive cocktails and feasting on yummy Khmer food. The next day we spent the entire day exploring the ruins of Angkor. The temples around Siem Reap are well over 100 in number and were built from the year 800 to late twelfth century.  I was told that the Khmer empire has over 1 million people residing in the Angkor kingdom.  Initially the temples were of Hindu origin which was later converted into Buddhist temples.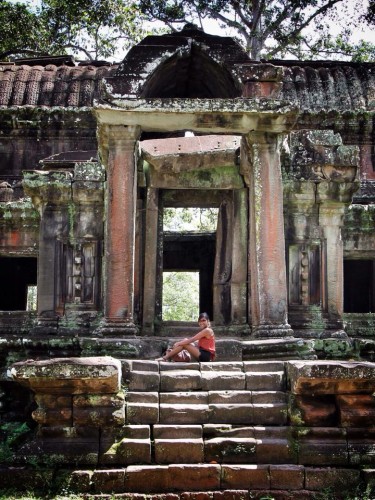 We hired a tuk tuk for USD 15 (standard rate) and did the short day tour around the temples – Angkor wat, Angkor Thom, Bayon and other small temples. The weather was very hot and sweaty; hence the tuk tuk rides between the temples was relaxing and breezy.
During the evening we decided to explore the night market .It was crowded with tourists and the souvenirs seemed overpriced. They might market was selling all kinds of stuff from silk scarfs, bags, handloom fabrics, jeweler, artifacts, status of Buddha. Later we took a walk along the pub street and grabbed a beer checking out the pedestrians on the busy street. We bid goodbye to Siem Read treasuring its ancient charm looking forward to our next destination – Phnom Penh.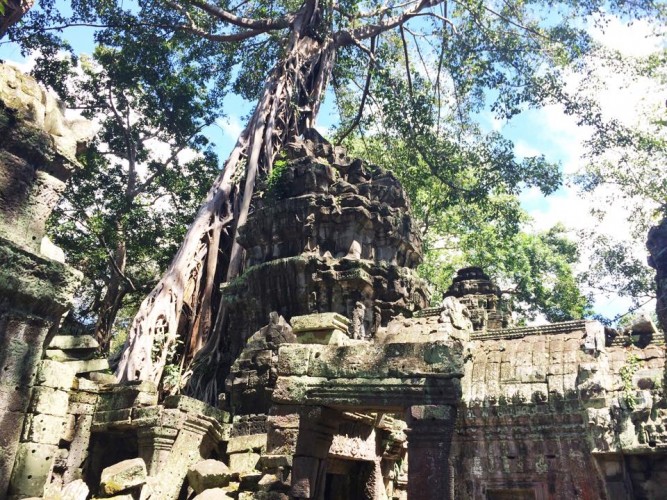 Touring across Phnom Penh: 24th Oct- 26th Oct
The 7 hours journey back to Phnom Penh was as usual slow due to bad roads. The roads in Phnom Penh are chaotic and too much traffic. On the first evening we chilled on the terrace restaurant of our Hotel (Patio Hotel and Urban Resort). Next day though it was drizzling throughout the day, we decided to pay a visit to the famous toul Sleng (S-21) genocide museum. Tuol Sleng was a high school until the Khmer Rouge, under Pol Pot,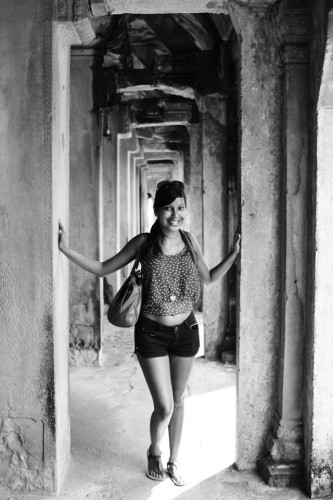 turned it into the notorious S-21 prison. However the majority of the victims were buried in The Killing Fields 15 kms away from the prison.  After the fall of the Khmer Rouge in 1979 it was made into a genocide museum, displaying the horrific things that went on during the Khmer Rouge regime.  It was really depressing to witness thousands of skulls and the tiny cells in which the victims were captured. I really experienced a negative vibe around me.  Later we also visited the killing fields where the mass genocide took place. Thousands of women, children were buried naked and also tortured tied to a tree. This is utter hostility.
In the evening, we chilled in an al-fresco bar beside the river quay relishing our super cheap beer and snacks. As both me and my boyfriend were keen on buying ourselves a Buddha statue, we went early morning to the Russian market and got our self a big wooden statue for USD 45. As my boyfriend sunbathed by the infinity pool of our hotel, I got myself pampered with a rejuvenating Khmer massage.
After a 5 day tour in Cambodia, we made our way back to Singapore.
Cambodia always kept me on my toes – super amazing ruins of Angkor, hostility of Genocide museum, insanely bumpy roads and extremely hospitable people.