It's the season when we all get busy sending Holiday greetings card to our loved ones. How about you? Have you already finished sending out your Christmas cards as we have just a week more for Christmas? Maybe you want to create your own card adding a little personalized charm to it? It's not too late at all! Here's one Christmas card idea I created and want to share with you which will make you a pro in no time!
I am sending out this card as a part of handmade card exchange initiative started by Nataliestudio in Instagram (this platform create wonders!) and I really hope she likes it. Natalie Fang from ilovenataliestudio is a Singapore based DIY/watercolor artist who organizes these amazing art workshop and is so supportive to the craft and DIY community. I am totally looking forward to enroll for her upcoming class in January.
My today's watercolor Christmas illustration is a little red winter sock. I love this design because it strikes a perfect balance between being playful and arty.
Supplies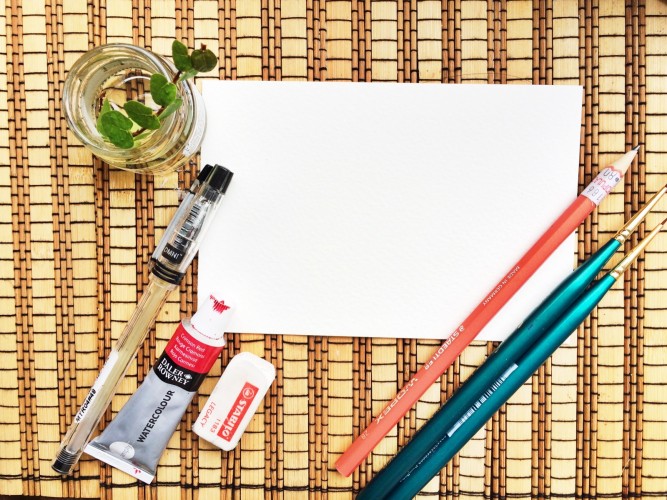 • Watercolor paper- (I am using 140lb cold pressed paper , 225 gsm)
• Watercolor paints – Crimson Red ( I recommend Winsor and Newton Cotman watercolor for beginners)
• Watercolor brushes – (I am using 0 sized spotter brush and size 4 round brush)
• Palette
• Water
• Uniball White Gel Pen
• Uniball Black Gel Pen
• HB pencil
Steps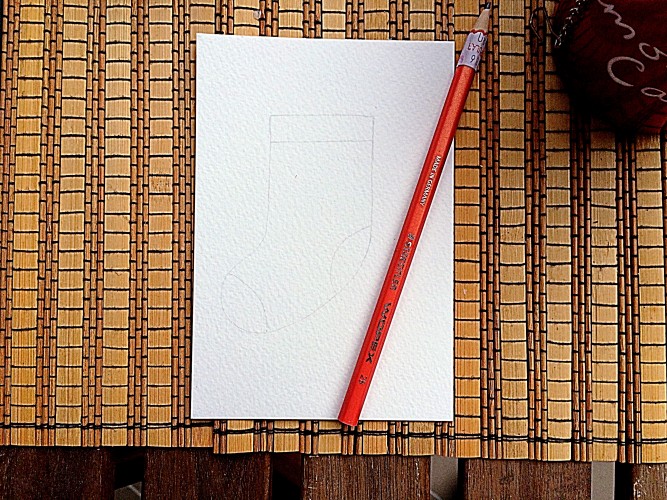 • Start with taking a watercolor card stock if you would like to make a holiday greetings card. Else you can use any watercolor paper with a thickness of or above 225 gsm and get it cut into any shape you prefer. To begin with draw the outline of the socks as shown with a HB pencil. Very lightly!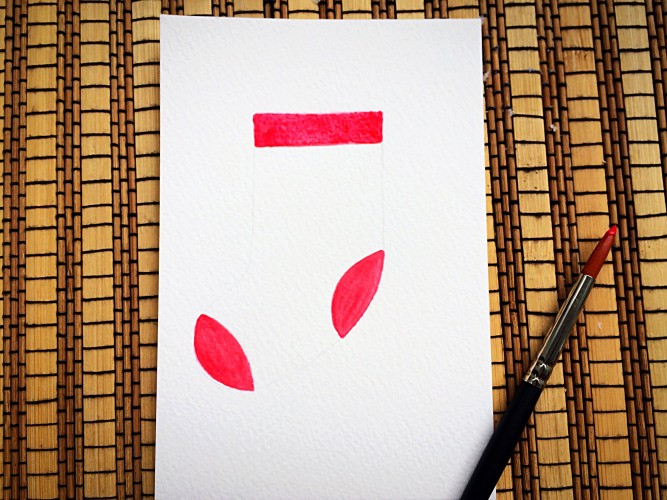 • Next paint the toes, heel and the cuff ribbing using the Crimson Red paint with a size 4 round brush. Feel free to darken by apply 2 or 3 strokes or controlling the amount of water.
• Now it's time for the intricate part of the illustration. The body of the sock needs to be filled with random holiday motifs. I started from the toe section and proceeded gradually toward the top. The reason I would suggest doing this is so that you have consistency while creating it. Feel free to add any Christmas elements to your socks like fir branches, zig-zag pattern, tree, baubles etc.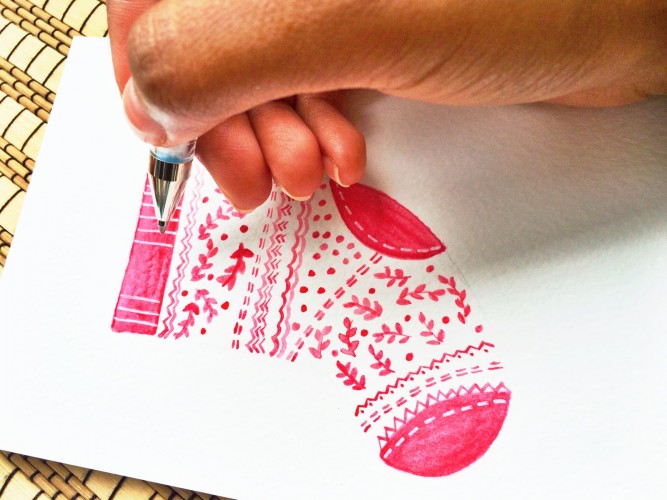 • Now to make the socks pop up I added threading using my white Gel Pen. This contrast color helps to create a festive feel.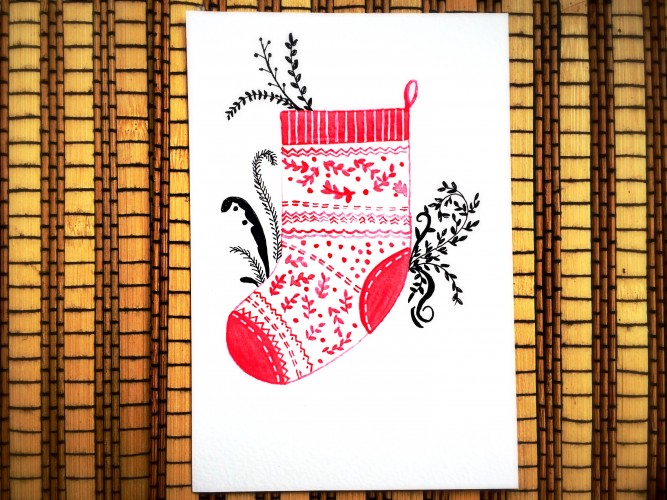 • If you see some negative blank space around your socks, you can fill that up by adding some ornamental motifs around the socks as shown. I used a black Uniball gel pen to do so.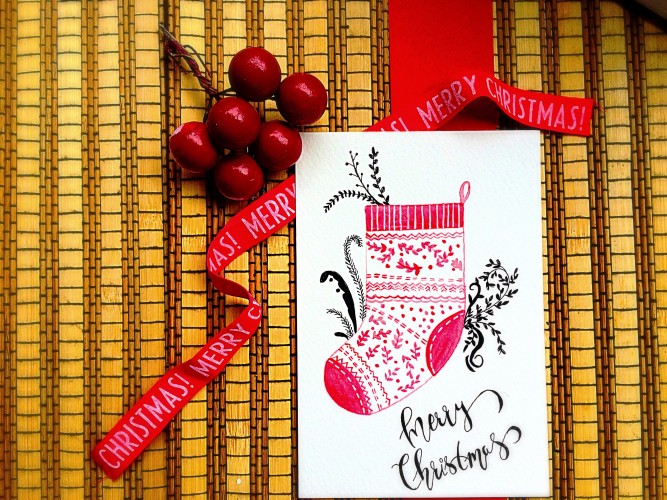 • A short Christmas message adds a perfect finishing touch to the card. I used the modern faux calligraphy style font to write "Merry Christmas" on my card. Your final product will look something like the piece above.
Feel free to use this little red winter sock illustration on anything you want! Gift tags, bookmarks, wall art, and DIY wrapping paper are all good examples of great projects. Its quick and easy so get going! Create this beauties and don't forget to share your masterpieces with me on Instagram. Hope you enjoyed this tutorial.
Cheers
Drishti