There are a few things that says "summer" quite like citrus fruits and watermelons. Fruit -filled trend has definitely taken over this season. So in today's tutorial let us have some fruit-tastic fun and create cute fruity watercolor coasters. Sweeten up your table and add a fruity punch to your summer party with these adorable goodies.
Supplies
Watercolor or gouache
Brushes of choice
Paper or tile coasters ( I have used paper coasters as they are cheaper alternative from the craft supply store)
Mod podge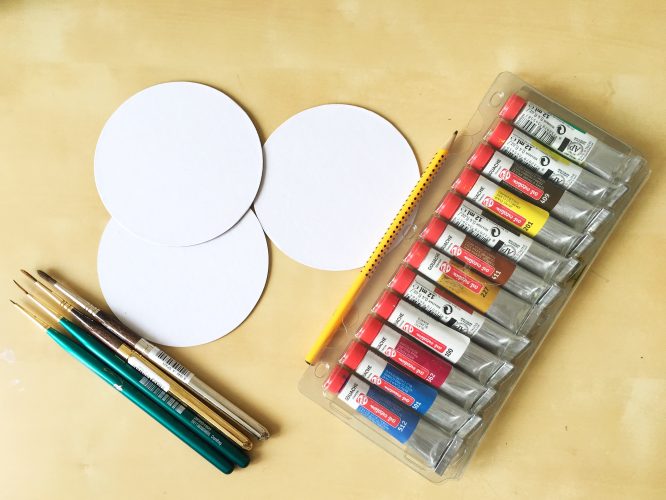 Steps
Juicy watermelon watercolor coasters
Begin by using your pencil to create the outline for the watermelon sliced. Start by drawing triangles and replace the bottom with two curved lines as shown in this time-lapse video( I am so sorry for the weird angle of this video!) Watermelons slices comes in varied sizes so don't worry about the lines being not perfect.
I used Permanent rose and sap green for the watermelon. I used loose watercolor technique for painting. First fill the triangle with water and add drops of the pink pigment by gently touching with the brush tip and let the magic happen. Similarly add the green in the curved bottom layer and don't worry if it merges a little bit with the pink pigment. It creates a beautiful dreamy effect. This time-lapse video will help your understand better.
Smoothen the edges by running through with a spotter brush.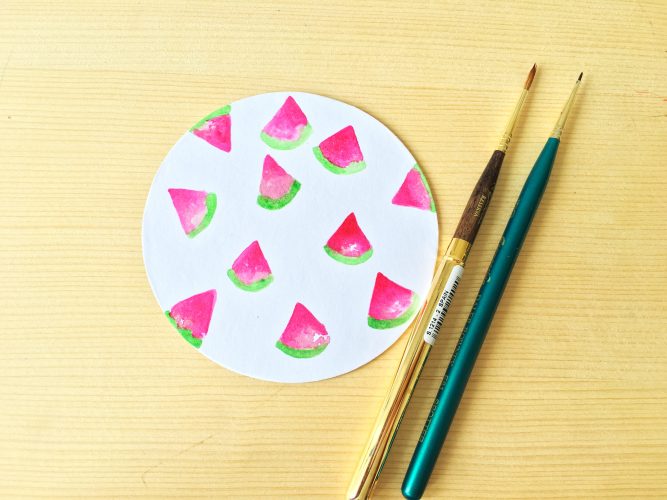 Use a micron pen to add tiny black dots for the watermelon seeds.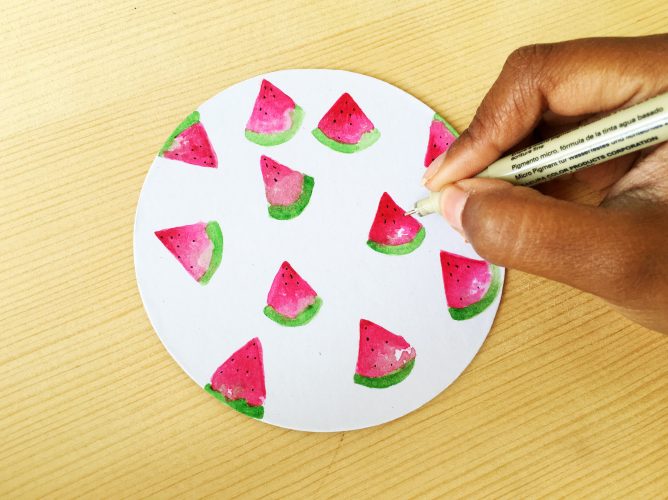 Do not forget to dab a layer of mod-podge to seal the paint and let it dry min for a day or two. And there you go friends! The cutest ever watermelon coaster is ready and perfect to add a splash of freshness.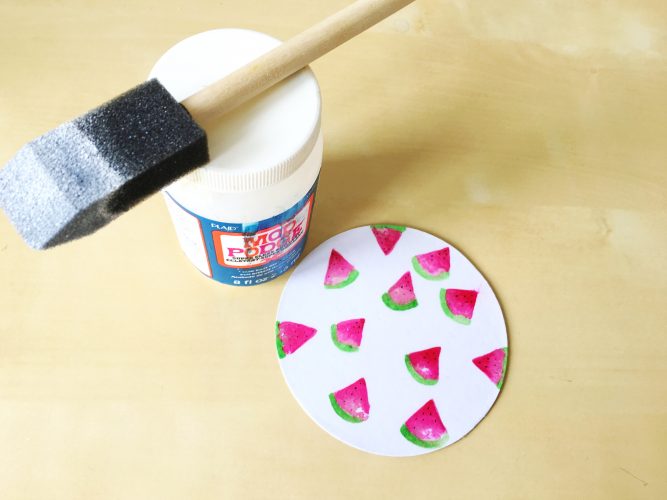 Cheerful citrus watercolor coasters
Of course there is a citrus version as well. Start by using a pencil and a compass to draw concentric circles as shown. You might also use the cap of a bottle to trace our the circular shape.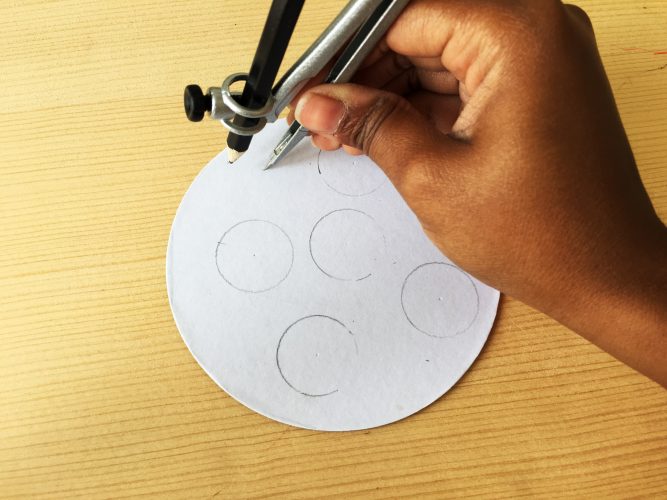 Next draw six radius double lines from the center. These are the inner rims of the citrus fruit.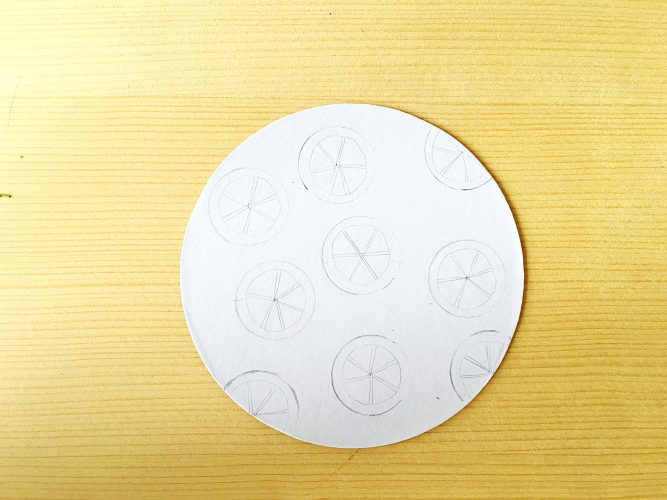 I have used a mix of lemon yellow, orange and vermillion for colouring the fruits. Start with colouring the rim of the circle. Then take a small spotter brush and paint the inside of the triangle in vertical strokes. Make sure you don't fill the triangle completely and leave some white spaces between your strokes because this signifies the light bouncing effect of the wet surface.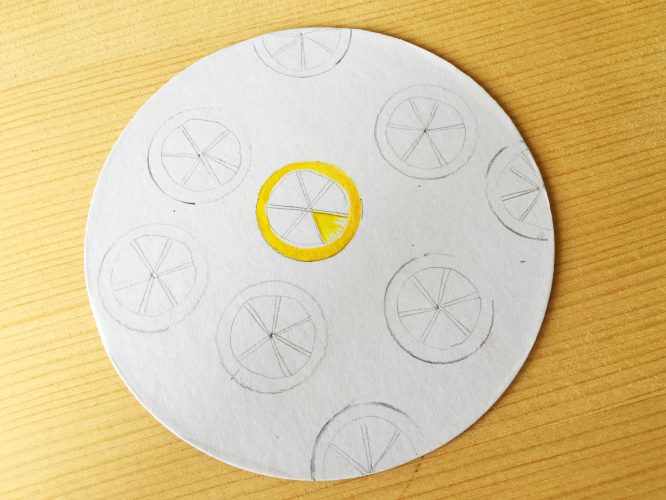 Proceed to fill the color in the triangular spaces but ensure that you do not color the double lined radius. That should remain white.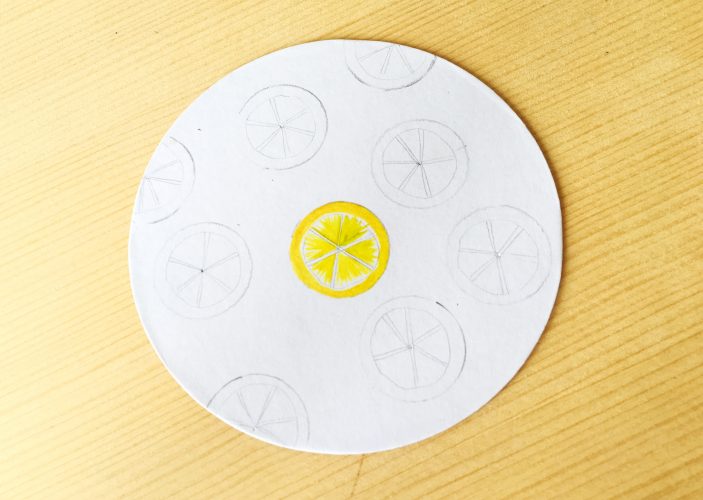 Feel free to experiment with different colors to get a vibrant look as below. Seal your paint with a spray or mod-podge.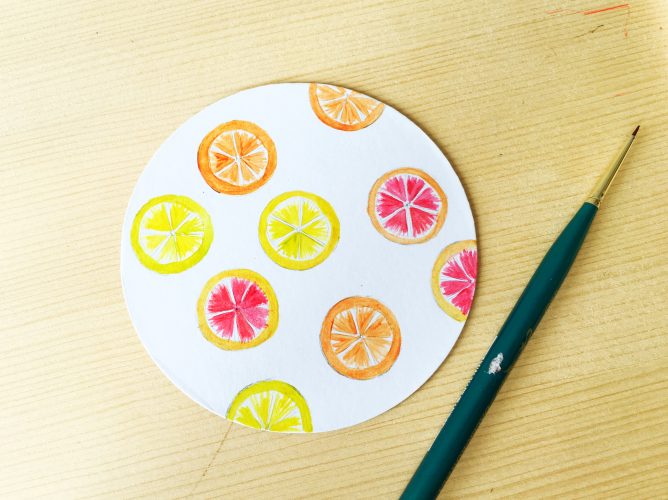 And there you have it. 30 minutes to get a swanky new set of summer coasters for your next summer bbq party or as a cool hostess gift. This technique is pretty simple and you can create these with your slightly older kiddos as a fun summer project.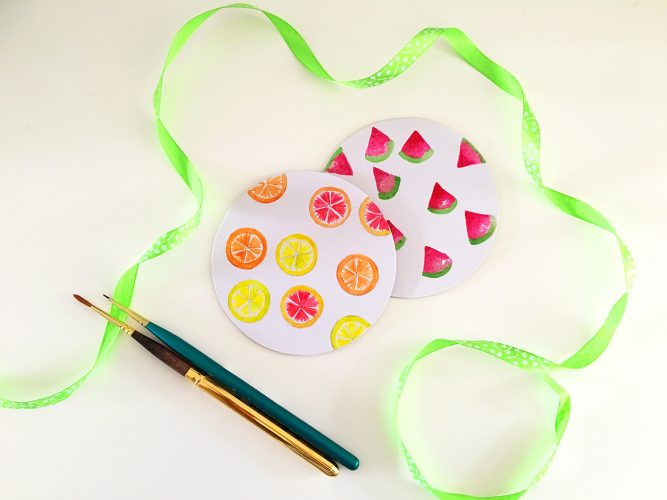 I am sure these coasters are going to make appearance all summer at my home. Do let me know if you found this tutorial fun and useful.
Cheers