For a happy couple, "Home" represents their diversified personalities and a true reflection of the integration of lives. Curating a house into a humble abode is quite a learning experience for us. Timo definitely prefers practicality and I lean more towards aesthetics – we do see the world differently. Our new home is a 85 sqm. apartment in the lovely green city of Freiburg, Germany. Having moved in here three months ago, the never ending process of furniture shopping, rearranging, decorating continued pretty longer than I expected. As an Artist, home is indeed one of the biggest canvas I ever worked before. Today I am going to share some ideas of decorating a living room which strongly express our personalities, tastes and creative innovation.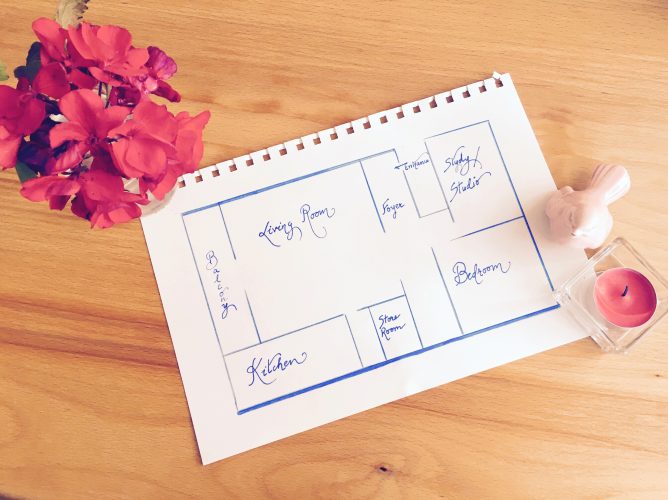 Styling
As many of my friends are aware, I am deeply inspired by rustic-chic style. The cozy yet minimalistic styling definitely makes my airy, bright living room look very spacious. I love wood and therefore have my dining table and cabinets in massive oak wood.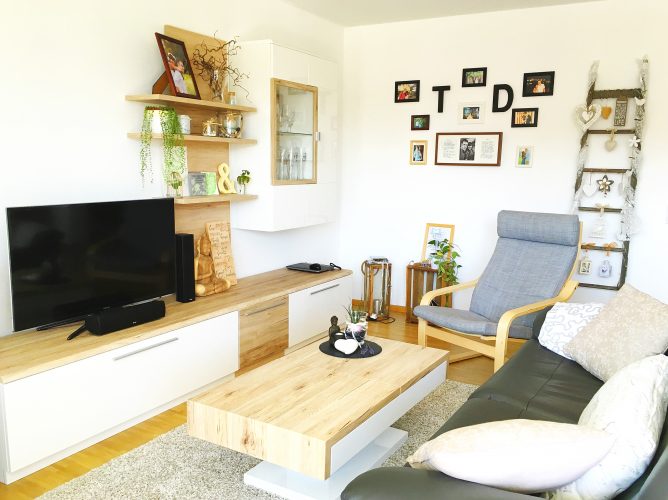 I have added sofa and chairs in anthracite to balance the color. The furnitures are practical and yet beautiful. Just add in some cushions and throw of contrasting color on the sofa to make it look comfortable and inviting.
Timo loves his comfortable armchair which we picked from Ikea and serves as his welcoming nest after work.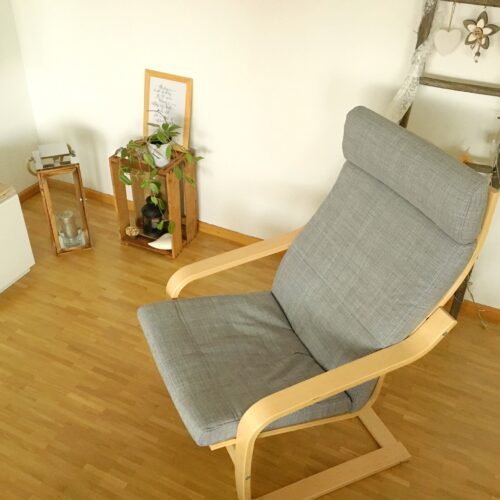 The walls of my house are all white and neutral, simply for the fact it provides a good contrast to my picture gallery and artwork display. And of course! white walls makes the house look bigger and brighter.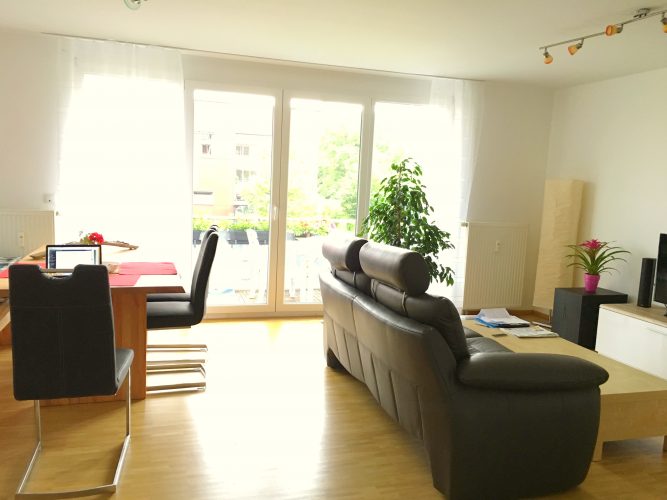 I hate clutters and hence this wall cabinet with lots of drawers are perfect to keep away electronic devices, gadgets, crockery etc and just display what we love. The string of pearl succulent and my leafy artwork definitely infuses an element of color to the otherwise neutral cabinet.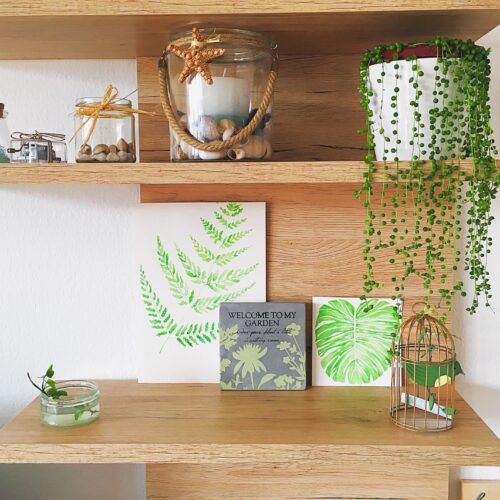 Detailing
Decorating this large wall was a challenge. After some brainstorming, I decided to add a simple picture gallery and also framed our handwritten wedding vows.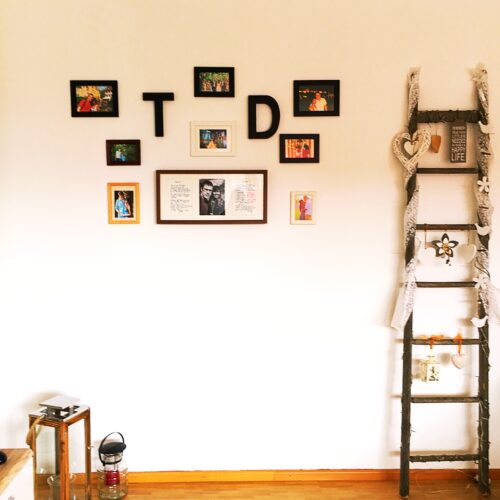 I stacked this old ladder beside the wall gallery which I repurposed by adding some trinklets, draped the leftovers from my transparent curtain and pepped up with fairy lights. A perfect source of romantic indirect lighting!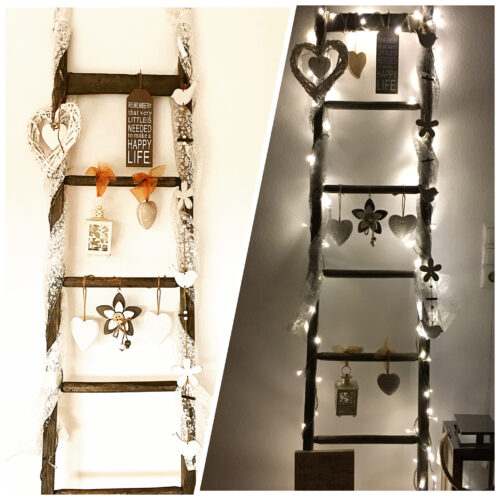 I also used this old wooden crate and a lantern for a corner decoration. I decided not to paint them to create a rustic touch to the otherwise streamlined look.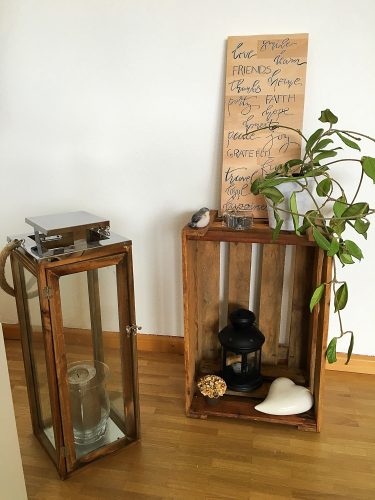 Wherever I stand, my goal is to see lots of green. My living room has a lot of indoor plants of different sizes which injects life into my decor.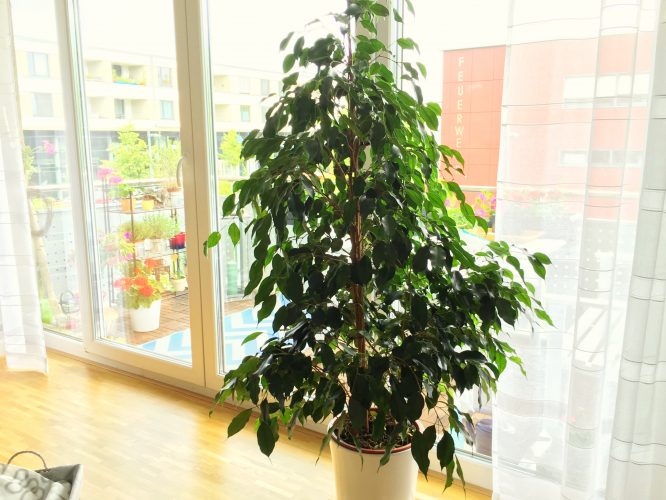 Making the most of every corner in our space, I placed this old wine barrel which is a gift from Timo's parents on his 30th birthday. It is perfect as a bar table during parties and gatherings and on usual days it holds my vintage mementoes and plants.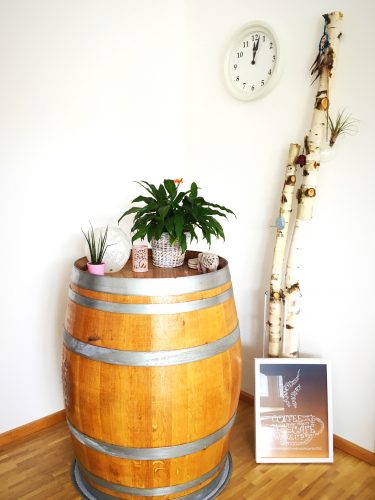 My home alway embodies my eclectic style of "thrifted, gifted and handmade pieces". This very special DIY wooden signature board of our wedding guests stands upright on top of our shoe cabinet in the foyer along with a curly willow branch in a watering-jar.
Extras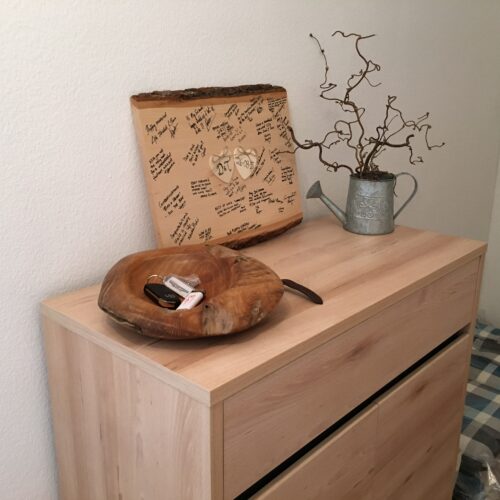 As we have an L shaped long foyer, I kept my chest of drawers consisting my art supplies  stash and toiletries to use up this negative space. The lyrics of our wedding dance in modern calligraphy script framed and placed on top of it.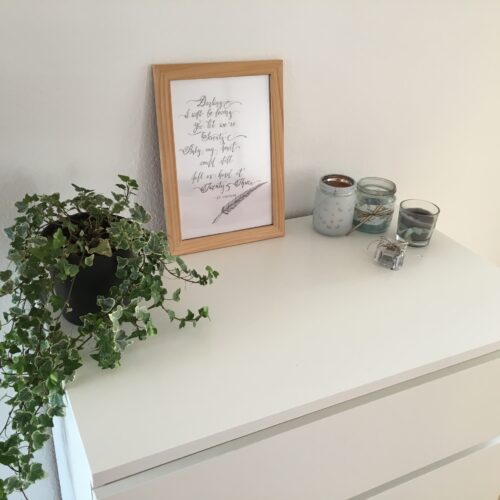 I am glad to have opted for a more DIY approach in home decoration as it is very personal and helps us to keep in budget too. What I love about our home is the endless inspiration it provides. Hope you liked this living room tour. Do let me know your comments on this and if you want a home tour of rest of my rooms.
Cheers