As summer rolls around and days get longer, outdoor spaces and gardens spring back to life. Nurturing outdoor plants, reading a book, candlelight dinners, drinking with friends, having a perfect Sunday brunch and enjoying endless conversations are some of my favourite things of the spring-summer season. Outdoor space, be it a huge terrace, a pebbled patio or a tiny balcony-it always adds a lot more space to the overall footprint of a house making it the perfect cozy hood to chill and unwind.With the variety of styles and tastes flooding the internet, I hope you can find some inspiration through my little blog on how to decorate a small affordable urban balcony.

Before you set up your deck, choosing the right color palette based on the preferred style  is very important. I opted for turquoise and navy along with crisp, clean white because I simply love shabby chic.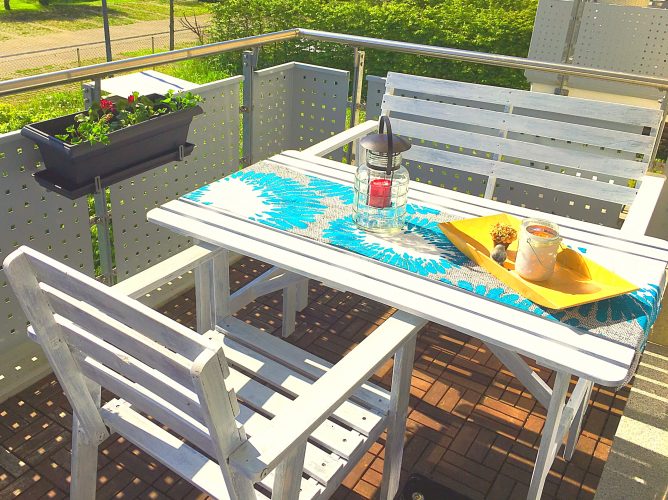 The simple uncomplicated furniture were picked free of cost from the discarded furniture lot of my parents in law's neighbours and were given a new single coat of white paint to freshen them up with a rustic and distressed look. In terms of layout I wanted the deck to feel intimate and cosy so I layered it with blue checkered cushions, a throw ( local discounter) and a turquoise table runner ( from Ikea) for pops of color and visual texture.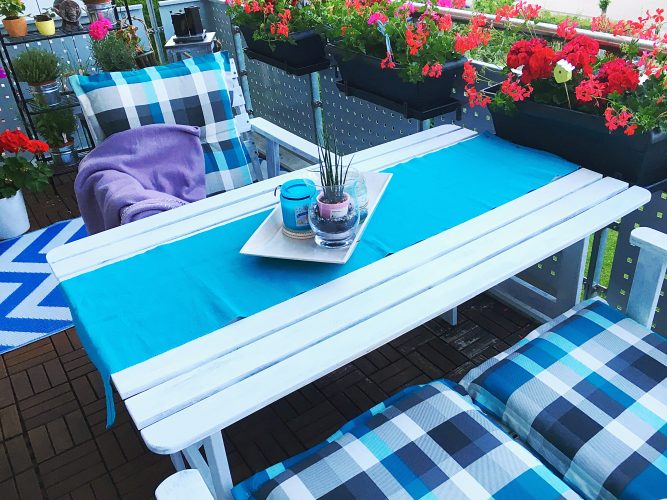 This is my absolute favourite blue chevron  rug. This rainproof polypropylene mat ordered from Amazon makes the deck feel more like an outdoor living room and adds playfulness to the space. This is my definitely my favourite spot to simmer down and drift away !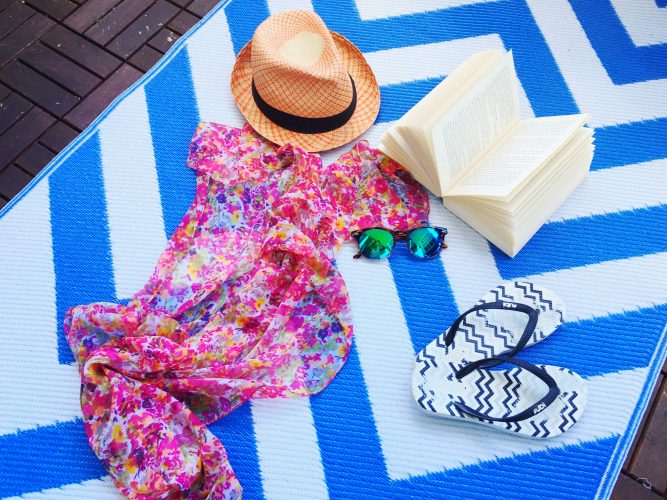 Adding yellow strings of LED mini paper lamps makes the outdoor area welcoming and warm. You can opt for string of fairy lights for a vintage vibe instead.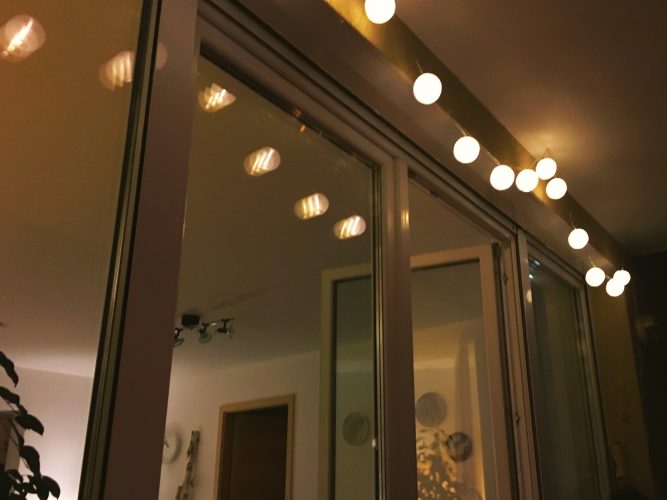 I am crazy about lanterns and I have tonnes of them everywhere in my house. I added some metal and wooden lanterns (Ikea and local discounter) and mix-matched them in different sizes which serves as decorative elements as well as illuminating accents when the night falls.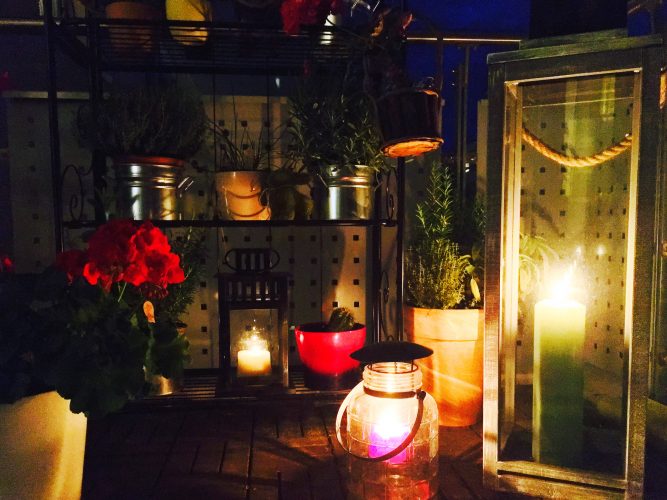 Mini tea lights are best to create a romantic ambience. Use plenty of them if preferred with fragrance and place them on the table to help to set a relaxing mood.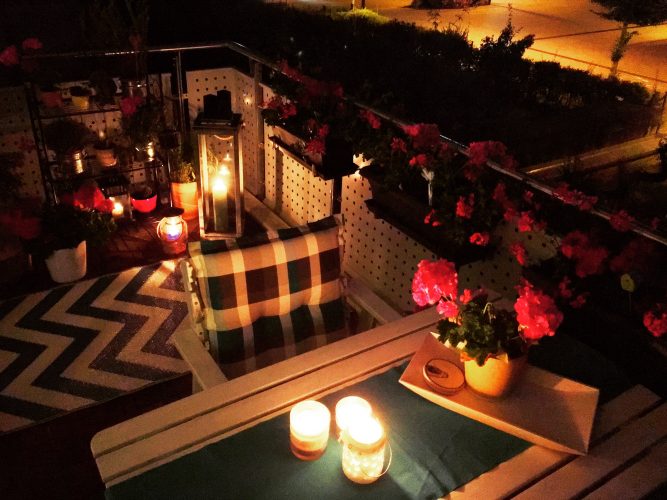 I love nature and definitely need a lot of green elements. I created this mini herb garden with some of my favourite herbs — thyme, oregano, lavender, rosemary, chives and sage perfect for a fresh supply whenever I cook. I added different types and colours of pots from gold to white, from galvanised to terracotta for visual interest.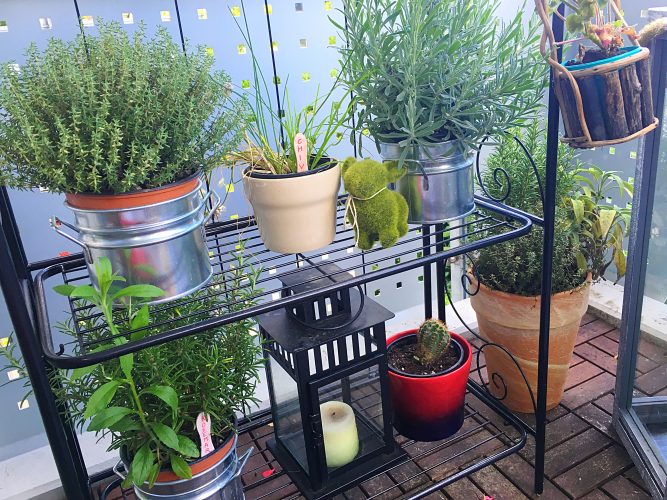 Germany and geraniums are synonymous. These vibrant, crimson beauties on my rail planter makes my place a little oasis.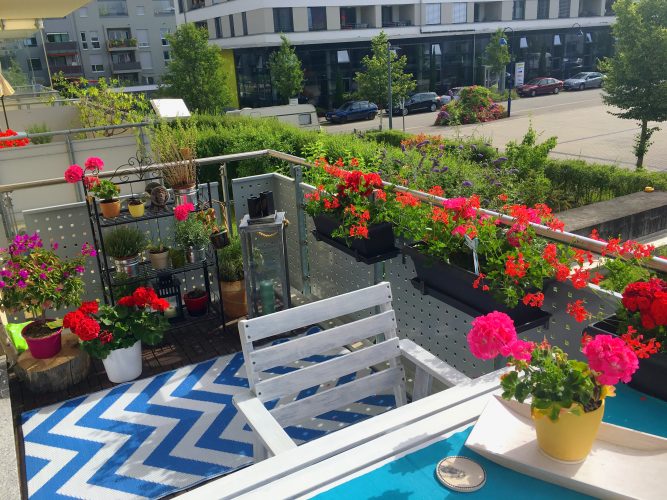 I have curated my entire balcony under $70. It doesn't require much space to create your own outdoor haven – just a comfy place to sit, a surface to rest a cold drink, and a flower-filled pot or two. Sometimes the smallest space can offer the coziest of nooks!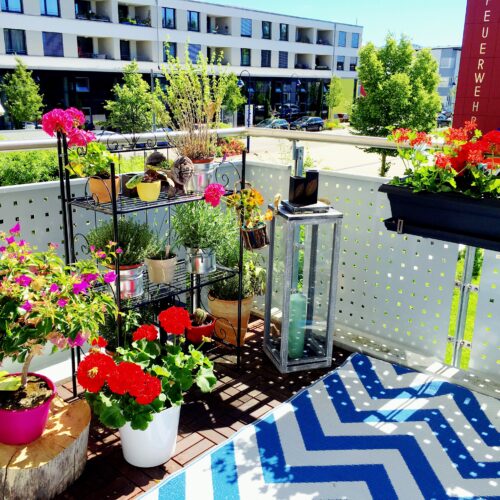 Hope you found this blog useful. Which element is a must for making your outdoor space more welcoming? Do share your thoughts and comments so that I can also pep up my balcony with your ideas.
Cheers