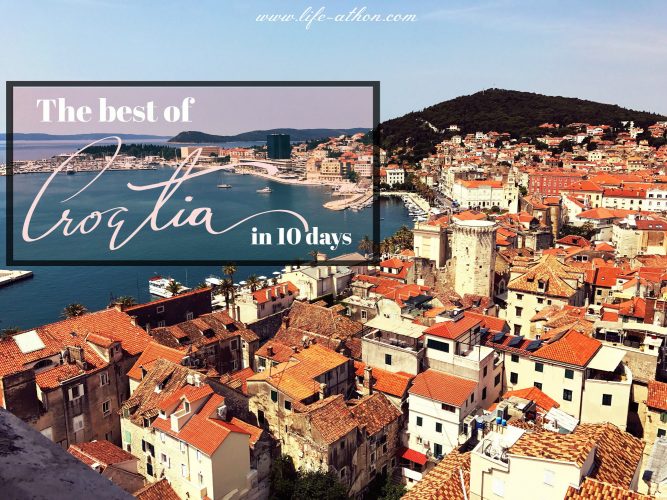 Croatia is all about – glittering blue waters, perfect medieval coastal towns, astounding natural beauty, delicious seafood, incredible wine, hospitable people…my list is endless. It definitely turned my Mediterranean fantasies into reality. In today's blog, I would like to share our ideal 10 days itinerary across Coastal Croatia and Plitvice National Park.
After reading a lot of travel blogs, lonely planets and trip advisor reviews , we finally decided on the below 4 key spots in Croatia with 3 nights per location so that we can spend enough time and I personally hate it hectic during holidays.
Split >> Brac Island (bol) >> Zadar >>  (Plitvice National Park)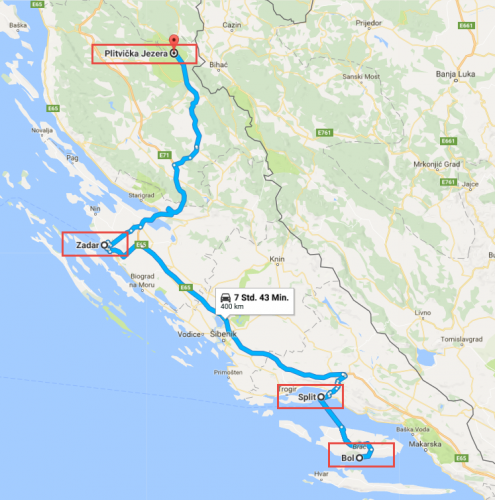 Getting there
We took an EasyJet flight (budget airlines) from Basel Airport in the evening after work. Negotiate with your hostel or apartment host to pick you up from the airport. We rented a car to travel around Croatia with Billiger-mietwagen. Driving around Croatia is very similar to any other European country. The only thing to note is the amount of toll roads in Croatia
Split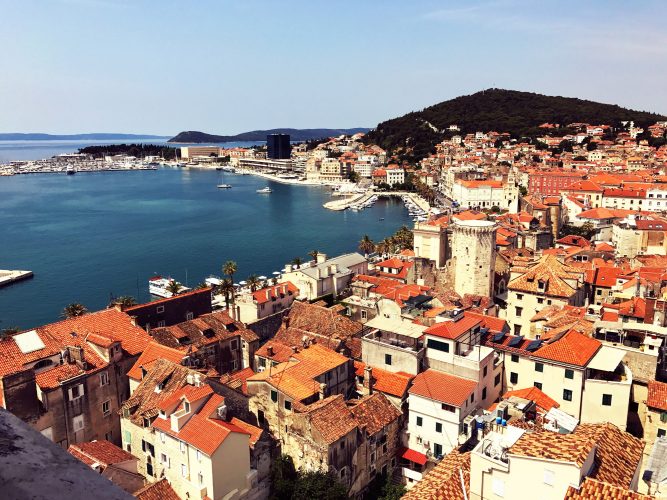 With the right balance of history and modernity, this high spirited city is best to see Dalamtian lifestyle. The orange rooftops reflected in the crystal clear blue waters of the Adriatic Sea along the Croatian coast is simply beautiful!
What to see and do?
The entire city of Split is walkable. Step inside the Diocletian's Palace and you will be greeted with dozens of bars, restaurants amid the impressive Roman monuments. Take enough time to explore the old town.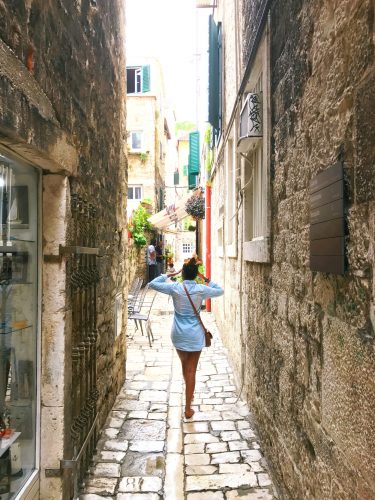 Take an evening stroll along the Promenade which they call Riva Waterfront. It is lined with several restaurants and is a perfect place to grab a glass of wine and unwind.
Climb up the Bell Tower for 20Kn to get a magnificent view of the split and Adriatic sea.
Take a stroll up to the panoramic viewpoint during sunset to have an awesome view of the Split city with a rose pink backdrop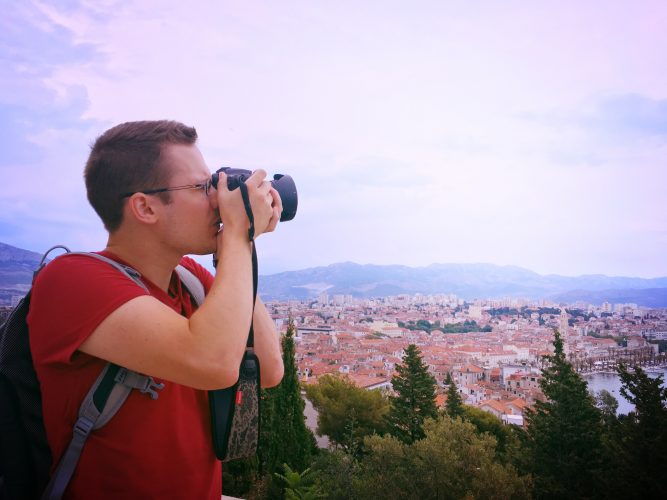 For nature lovers, a hike up the Marjan Hills would be the best choice if you want a short escape from the hustle-bustle. (Hiking duration: 1.5 hours).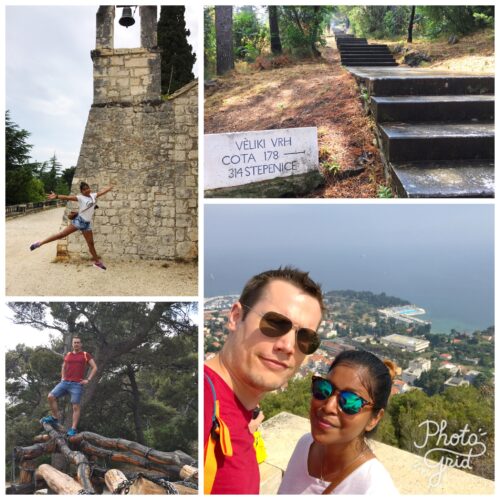 Where to eat?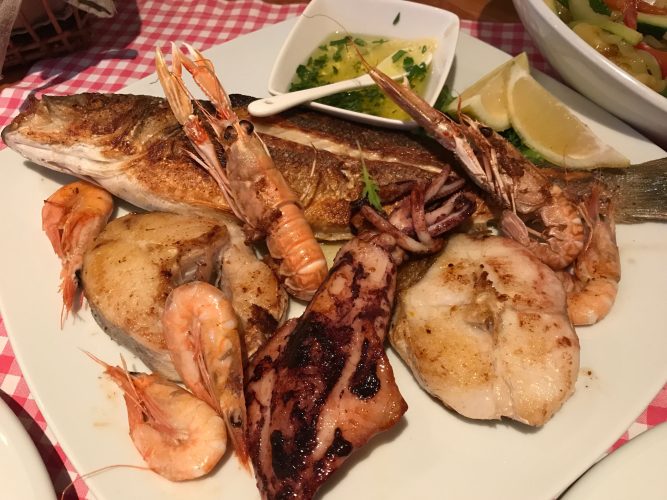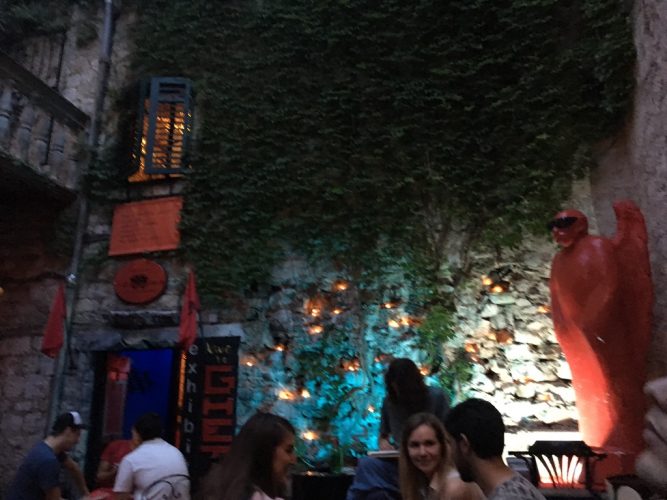 Where to stay?
I can totally recommend our studio apartment Lili's Place which is just a stone throw away from the inner city and has beautifully restored interiors with a rustic charm. Not to forget the awesome the host, Mr Tomo has some best tips for his guests. It was one of our favourite stay in entire Croatia.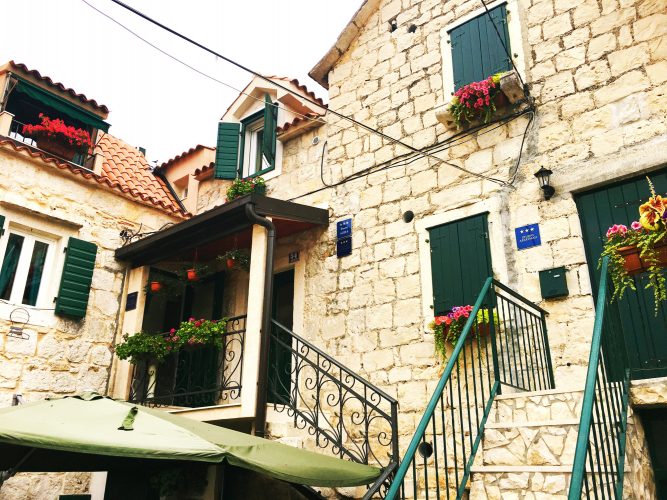 Bol (Brac Island)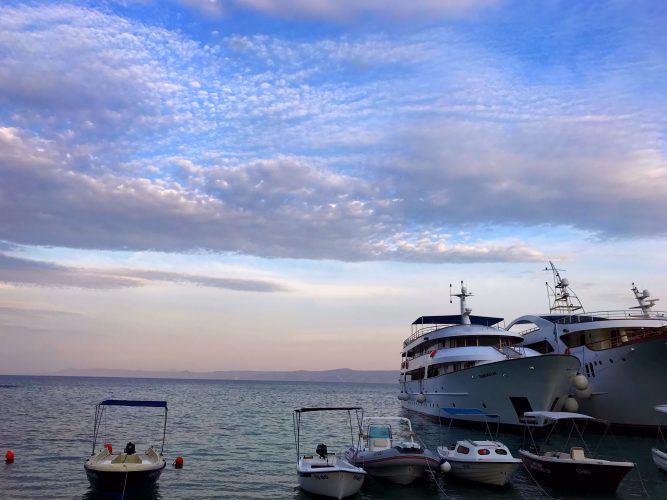 Take a 45 mins catamaran from Split and travel to Bol, Brac Island. It is an old bewitching port town made up of pebbly beaches, stone houses and winding narrow streets. This sleepy town is known for some of the best wine and cheese in entire Croatia. Bol is the perfect place if you are looking forward to being lazy and chill.
What to see and do?
Europe's most famous Zlatni Rat beach is Bol's major attraction. Find a cool place for yourself on this long golden pebbly beach lined with pine trees and enjoy an easy day under the sun. There are as well myriad water-based activities at hand to lure you off your sun-lounger – snorkelling, diving, kayaking, windsurfing and sailing, just for starters.

Try some local wines and proscuitto (ham) with freshly homemade olive oil of Bol. There are a plethora of choice along the coastal promenade.
We rented a Scooter and took a day trip to the other towns of the Brac Islands including the highest peak of the Dalmatian Coast, Vidova Gora. From there you will have a great panoramic view of the Zlatni Rat beach and Bol town. There is also an awesome hiking trail up there. Hiking duration: 4 to 5 hours.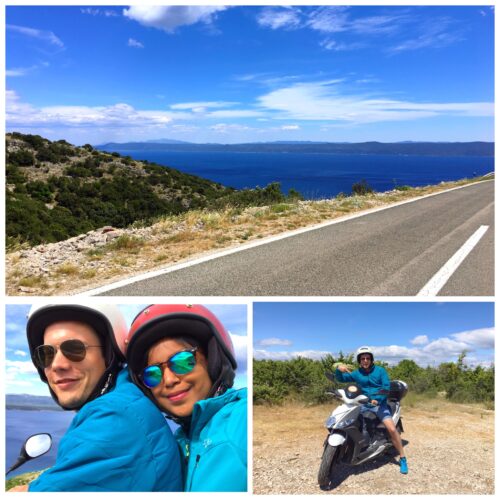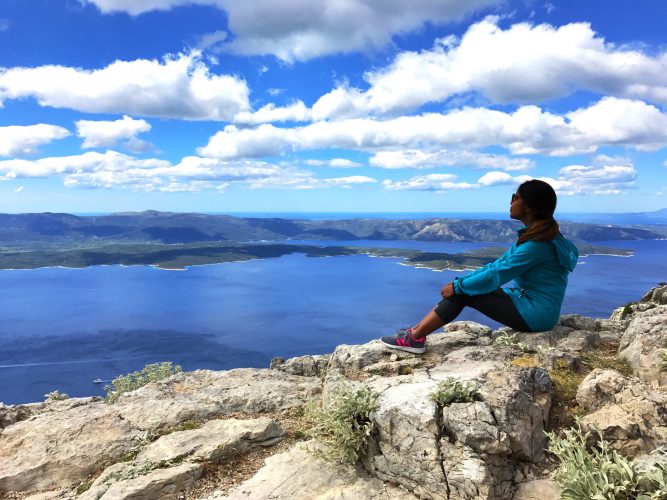 Take an evening stroll along the promenade lined with large overhanging pine trees relishing an ice-cream.
Step back in time and hike up the Blaca Monastry or Dragon cave through the rocky mountain trails along olive groves.
Here's a short video of our scooter ride to Vidova Gora
Where to eat?
For wine – Stina Winery (try the Malvazija white wine and a mist visit!!!)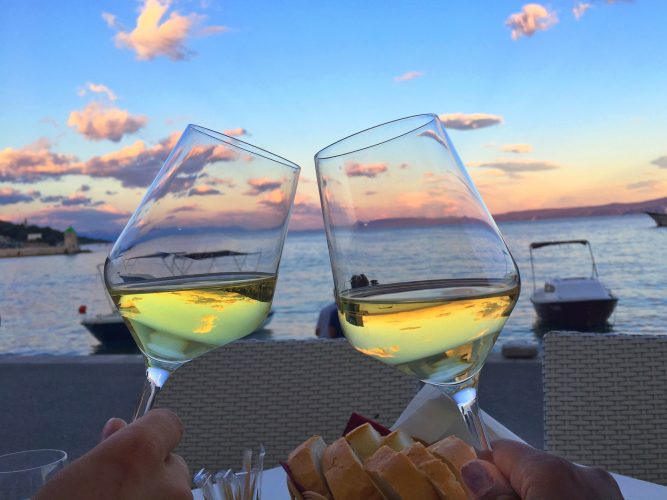 Where to stay?
We booked a room with Adria Tours through Airbnb. A bright and spacious studio apartment with a large terrace. They even organized a free pick up and drop from the Bol port and helped us with renting a scooter with a discount of 10%.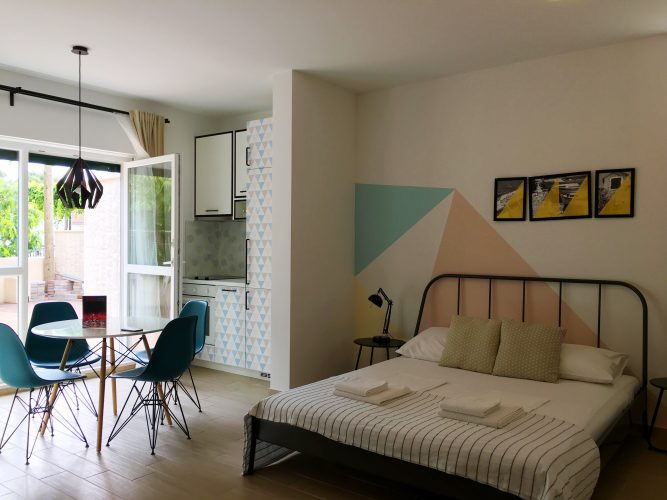 Zadar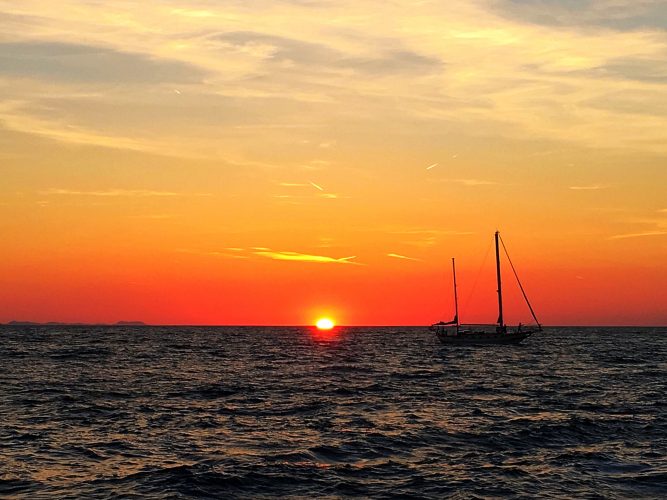 We picked up our rented car from the Split airport and headed to Zadar cruising through the beautiful rocky mountains and nearly empty highways. Zadar is  a quirky old town set on a small peninsula. Unlike older times, Zadar is kind of crowded with tourists. While it is not the postcard perfect place to be, it could still be included in your itinerary provided being mentioned as Europe's best travel Destination 2016.
What to see and do?
Two not to be missed attractions – the sound-and-light spectacle of the Sea Organ and the Sun Salutation. Grab a seat on the concrete steps by the sea and watch the sunset. It is beautiful!
Take a day trip from Zadar to Krka National Park. This magical place of waterfalls, gorges and gushing Krka river is indeed a fairy tale. If you are driving, then take the Skradin entrance for easy access to the famous Skradinski buk waterfalls. Take an hour long hike following the boardwalks, crystal clear lakes filled with fishes and finally take a dip in the emerald-green water of the waterfall, Skradinski Buk.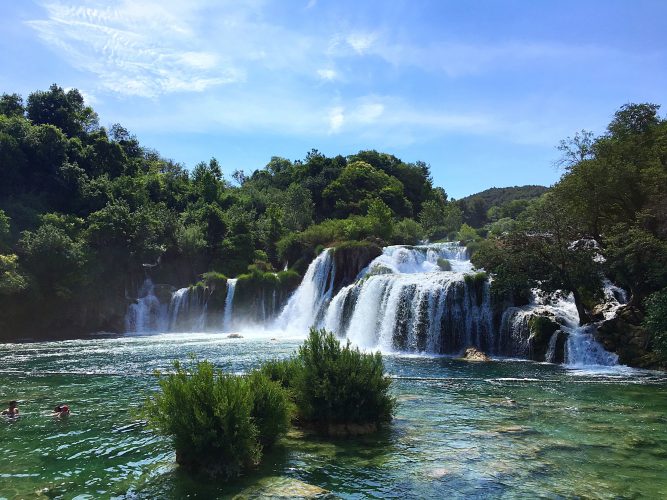 To escape the crowd, explore the other areas of the National Park such as Roški Slap which consists of series of islets and end your hike by chilling by the river on a hot summer afternoon. All the entrances of the park are accessible by car. Travel early to escape the crowd!
Here's a short video of our day trip to Krka National Park
Where to eat?
We had one of the best food in entire Croatia at Konoba Kamen. This al-fresco restaurant is located on the outskirts of the Zadar town and is perfect if you have a car. Include this restaurant in your plan and you would never regret!!
Where to stay?
We booked a room in Gamira Stone House through Airbnb. Jasminka was a really homely host and welcomed us with pastries. The kitchen was equipped with all the basic amenties.
Plitivice National Park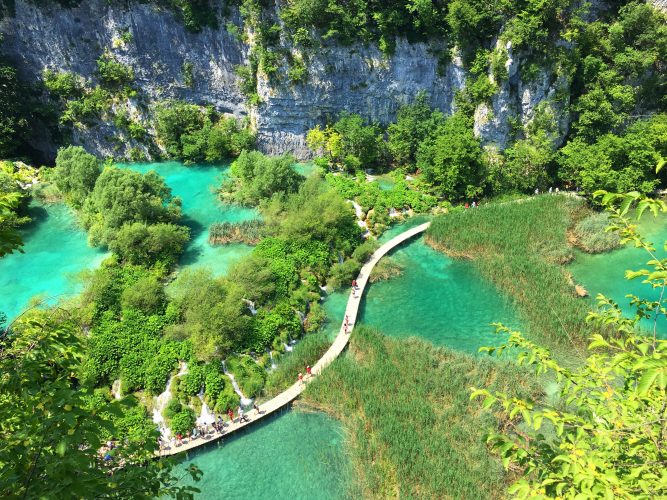 The absolute highlight of Croatia with glorious scenery of cascading waterfalls and lakes with 50 shades of blue is a must visit! Honestly, the first thing that strikes you is the clarity of the water.
What to see and do?
Plan one entire day to explore this extraordinary park of natural beauty and ensure to be there sharp at 7:00 am when then park opens to escape the crowd and heat.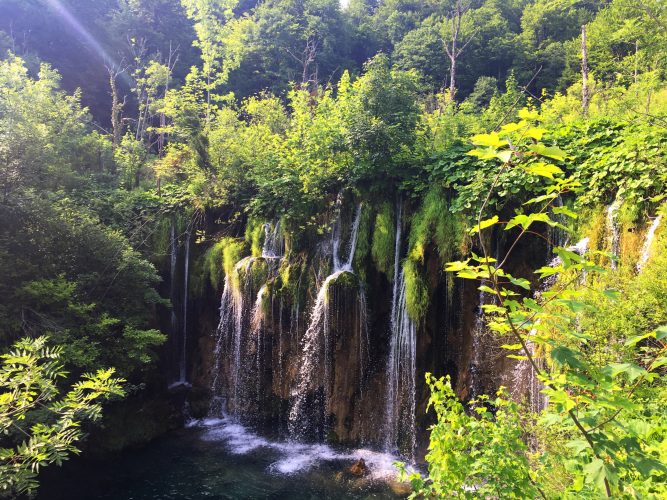 We started our hike from Entrance 1 along trail C ( 4 to 6 hours) and added a bit of Trail H to it in the end. There are 16 lakes connecting the waterfalls and each lake exhibits a different shade of blue and green. It is indeed a feast to the eyes!
The crystal clear water is indeed very inviting but unfortunately it is strictly forbidden to swim inside the national park. As you stand by the lakes, all you can do is stare and take in as much of the beauty surrounding you.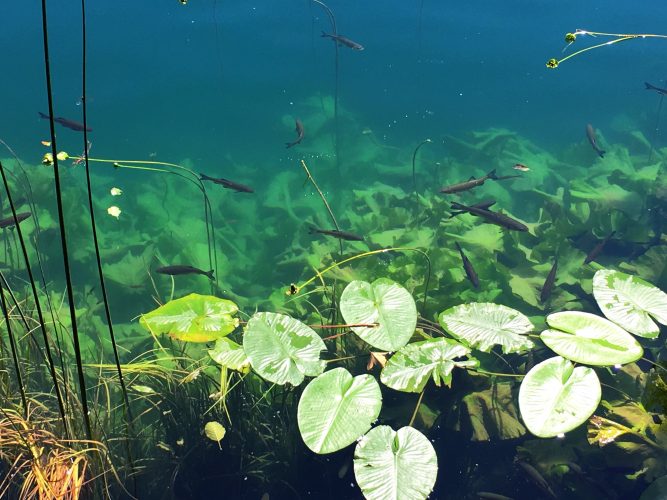 Where to stay?
We stayed 12kms outside Plitvice on a small village of Rakovica at Vita Natura Homes. This huge wooden bungalow has its own private garden and a little forest for you to totally rejuvenate. It is also perfect for travelers with car as well as families with kids.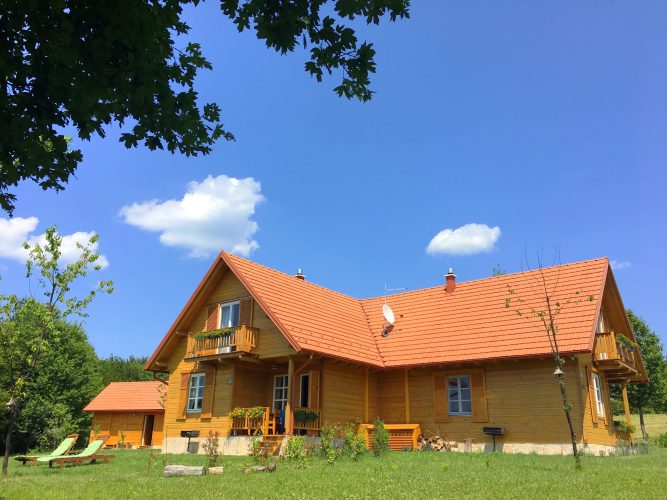 Wrap-up
I will really have to admit that I am a little head over heels with Croatia after my 10 days trip as it offers an unique combination of all things I love – sun ,sea , mountains, waterfalls and of course wine. Go ahead and explore Croatia and you will definitely thank me for recommending it!!
Cheers